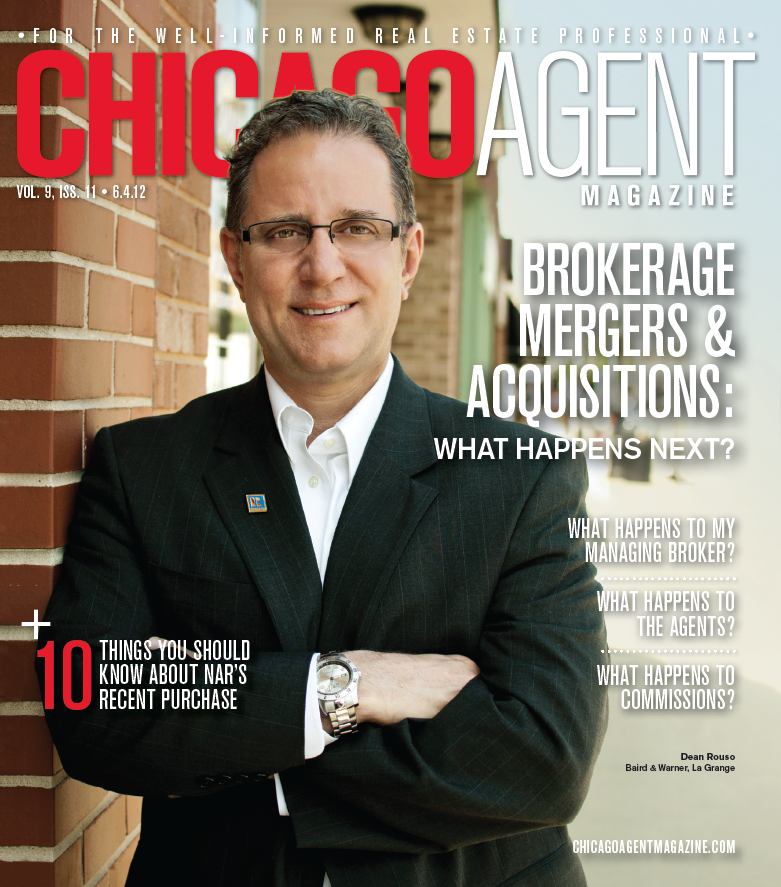 By: Christian J. Barron and Stephanie Sims
More often than not, managing brokers do not stay with a company after a merger. Every company has its own culture of business and day-to-day operation, and, typically, there's only one managing agent, and it's difficult for a leader to become a follower overnight.
Furthermore, every company has its own culture of business and day-to-day operation, and usually one culture will prevail after a merger or, especially, an acquisition. These transactions can have a big impact on the lives of agents within the brokerages being merged.
Why is this important? Because, if you have been paying attention to real estate news the past 18 months, you probably have noticed that several mergers and acquisitions have taken place. More and more agents are being affected by these transactions each day. A few mergers, which is when two firms agree to combine their assets and go forward as a single new company rather than remain separately owned and operated, have made headlines, including @properties merging with Chambers, Cross & Associates. However, there have been more acquisitions, where one firm buys another and acquires all its assets, in the news, including Coldwell Banker Residential Brokerage, which acquired four Keller Williams offices in four different Chicago neighborhoods, and Baird & Warner, which acquired Prime Property Partners, a brokerage in La Grange.
Steve Murray, the president and editor of Real Trends, told Crain's that there is a nationwide trend of mergers and acquisitions in the real estate industry.
"We're seeing it all over the country," Murray said, who attributes a great deal of recent consolidations to the 45 percent drop in brokerage commissions that has occurred the last six years.
Joining forces and agents for the competitive edge is a strategy more and more brokerages are acting upon – according to the National Association of Realtors 2011 Member Profile, 11 percent of Realtors worked for a firm that was bought or merged in the past two years. Moreover, 70 percent of Realtors that stayed on with the firm after the merger claimed that their compensation rate remained the same, and 14 percent said their compensation increased.
With all of these mergers and acquisitions making news, it begs the question: what happens to the agents and managing brokers of the combining agencies when one of these transactions takes place? Many of these people's lives may be significantly changed for reasons beyond their control. Oftentimes, the agents essentially find themselves working for a new company – without having made a decision to move – and have new expectations and processes imposed upon them. Furthermore, the agents often don't know how the merger or acquisition will affect them financially, if at all.
In the case of the acquisition, "one of the toughest things is when agents, who prescribe to a specific method or culture of operation, are told flat-out they are no longer brand X, but are now brand Y," says Dean Rouso, managing broker of Baird & Warner's La Grange office and former managing broker of Prime Property Partners. "Oftentimes, the managing broker/owner is no longer with the company after the merger and this can lead to strong confusion amongst the agents." The agents have to change their procedures and adapt to a new culture, and it's even more difficult when the person they've been working with for years is no longer there to guide them.
Rouso opened up his own company, Prime Property Partners, in 2007. Prime Property Partners was a tech-orientated company and offered agents use of a full-scale business center that included conference rooms, work spaces and various office supplies. After being in operation for five years, Prime Property Partners was acquired by Baird & Warner earlier this year in January. This was, Rouso said, "a strategic business opportunity and not due to a financial crisis, which so many mergers result from."
A company merger or acquisition of another firm or office can be a tremendously stressful endeavor for managing brokers and their agents, and there are usually two reasons companies will do this: one is strategic; there is very good value proposition that one company offers that the other cannot incorporate; the second reason for a merger is financial stress. A company that is financially challenged has to merge with another company because they cannot afford to stay financially stable.
My Path to Success: Drussy Hernandez
In Rouso's case, Baird & Warner thought it could help Prime Property Partners by providing the strong Baird &Warner brand recognition, but also benefit from Prime's high-tech office. The decision to go ahead with the acquisition was mutually beneficial: the former Prime agents gained a national reach of brand recognition, a marketing department and access to all sorts of marketing materials and marketing help, and the Baird & Warner agents gained access to Prime's high-tech business center.
"Prime Property Partners is an outstanding example of what we look for in an affiliate: a cutting-edge firm with local market expertise that is passionately focused on delivering outstanding customer service," said Stephen Baird, president and chief executive officer of Baird & Warner, in a press release.  "We see this union as a win-win for both of our sales teams, and especially for our valued clients."
"We were incredibly pleased to join the Baird & Warner real estate family," says Rouso. "There were a number of other companies interested in the business model I offered, and certain companies that are financially wealthy can afford to spend the dollars to reach and provide a wider array of services to an audience of buyers and sellers. Small companies can't afford to do this. Internet tech and newer technology like mobile solutions are expensive. My company, although cutting edge at the time, could not keep up with an aggressive company in that arena."
Baird & Warner allowed Rouso's agents to grow and expand the services he offered that he otherwise would not have been able to. This is often what happens during mergers and acquisitions – both companies benefit.
Amy Corr has seen many mergers from her position as managing broker and vice president of brokerage services with North Shore-Winnetka's @properties.
"Some of these mergers were due to financial needs of the smaller companies and others because of the growth and expansion opportunities offered by merging with
@properties," Corr says. "In response to the market, some smaller-scale brokerages have found an advantage in aligning with @properties. We have the economies of scale they need to maintain a competitive edge in this marketplace."
When @properties merged with Chambers, Cross & Associates, a Winnetka-based boutique real estate firm,
@properties expected to help Chambers, Cross & Associates with increased exposure and new marketing. In addition, the small brokerage brought more than 20 years of experience to @properties, and was ranked 10th in sales volume in New Trier Township from BrokerMetrics in 2011, making it easier to establish than in Winnetka.
"With @properties, we gain the marketing infrastructure, back-office support and referral opportunities of a large firm without sacrificing the boutique brand of service that is the essence of Chambers & Cross," Cheryl Chambers, broker/owner of Chambers & Cross, said in a press release. "We believe it's the ideal opportunity to better serve our clients and grow our business."
Getting Used to a New Brand
When Coldwell Banker's acquisition of the four Keller Williams offices was announced, it wasn't met with friendly reactions from Keller Williams agents right away. Chicago Agent reported the story back when the transaction occurred in January 2012, and most of the comments posted on that story were from confused agents, wondering how this acquisition would affect their lives. Fran Broude, president and COO of Coldwell Banker, said her company made sure they were prepared to answer any and all questions agents had, as well as
talk about the details with agents' rebranding and
pending transactions.
"In this acquisition, we acquired all assets, meaning agents," she says. "We did everything we could to make this the most seamless transition. We took care of everything that applied to their business, from business cards to licenses to signage. Whatever they had that they wanted to maintain and they wanted to rebrand, we took care of. We were very prepared, so in most cases, if we met with an agent right away, we had all rebranding of marketing materials, their websites and anything else done within one to two weeks. We had everything prepared and ready."
My Path to Success: Ray Zabielski
Each merger and acquisition is different, but in Coldwell Banker's case, by acquiring the four Keller Williams city offices, all pending transactions became property of Coldwell Banker. A more popular question agents have is about their new commission structure. In fact, a change in commission structure is often a reason agents leave their brokerage after a merger/acquisition in favor of a competitor. So when it came to commissions, Coldwell Banker made a commitment to the newly acquired agents, Broude said, that they weren't going to compromise any of their earnings – and stuck to it.
"Every agent should ask what fees or other expenses agents will have to pay to maintain their day-to-day business," Andy Shiparski, managing broker of Coldwell Banker's Gold Coast office, says. Is there anything not included, such as a comprehensive personal website or a profile and listing page? "Agents should measure the stability of current agents, and the average sell prices agents are receiving on their listings," Shiparski says. Asking these kinds of questions will help agents determine whether or not transitioning along with everyone else to the new company is the best move for their career.
Agents should also ask what to tell their current clients. There is a high likelihood that their current clients chose their agent and agent's company over the acquiring company for a reason, and now the clients need to be briefed about what will happen going forward – and
unfortunately, this might cause some agents to lose clients.
"The moment an announcement of a merger is made, the managing broker needs to sit down with agents and talk to them," Shiparski said. "Agents will be confused, and managing brokers need to get them focused on how the new company can help them grow their own business."
Corr says that @properties supports and encourages agents to develop their own brand identity within the company. "We provide the infrastructure for a real estate business to operate successfully – a full-scale marketing department, technology department, administrative staff, management team, and coaching/training department – essential elements to grow and maintain any agent's business," she says. "When we have had groups such as Chambers, Cross & Associates come over, it has been important to make sure they feel like they can maintain their own brand identity within @properties. In fact, we want to work with brokers who have built up a strong brand that the consumer identifies with. We work to complement, enhance and further complete their business offerings, rather than replacing them with the @properties identity."
What Happened to my Managing Broker?
Again, every merger and acquisition is different, but as stated at the beginning of this story, managing brokers typically do not stay with a company after a merger. Unless they are offered great benefits to stay with the new company – a new, better position, a raise, more perks – typically, the managing broker will leave. However, the chances of managing brokers leaving are higher if they are simply folded into the new company as an agent, not a managing broker or executive position. In Rouso's case, he stayed on as the managing broker of Baird & Warner La Grange, but also received a new title – director of sales development for Baird & Warner. When @properties merged with Chambers, Cross & Associates, Corr was still the managing broker of the Winnetka office, and Cheryl Chambers, former broker/owner, became a senior broker associate with @properties.
With Coldwell Banker's acquisition of four city Keller Williams offices, Coldwell Banker did its best to incorporate the Keller Williams managing brokers into leadership roles as best they could. Craig Hogan, the former managing broker of the Keller Williams Gold Coast office, is now the director of Coldwell Banker's Previews luxury practice group. Susan Swift, former managing broker of Keller Williams in Lincoln Park, took on the new position of transition and technology systems training director for Coldwell Banker. Lori Wyatt, the managing broker of Keller Williams Lincoln Square, is still the managing broker, and the office is called Coldwell Banker Lincoln Square. The Keller Williams office in the West Loop folded just before this acquisition, Broude said; the managing broker joined another brokerage before the acquisition, and after, the agents were folded into Coldwell Banker.
This arrangement is ideal because new agents' managing brokers are still around and don't disappear. While this situation doesn't always happen, the fact that Coldwell Banker managed to make this happen proved better for its business – not just because agents are happier their managing broker is still around, but also in terms of experience.
"We are super excited about Craig Hogan joining our team," Broude said. "He has always been working on luxury products and is very good at it. We haven't ever had one person focused on only luxury branding specifically for Coldwell Banker."
My Path to Success: Barbara O'Connor

Joining Coldwell Banker also proved to be a benefit for Hogan, Broude said, because though Coldwell Banker is the luxury leader by "quantum leaps" in the North Shore and suburbs, the city market is a bit different. "We thought it'd be a fabulous role for him and a great investment for our company," she added.
Susan Swift's new role as the transition and technology systems training director is a good promotion for a managing broker; Swift's experience will help her coach Coldwell Banker agents and develop new business.
And in addition to already having relationships with her own former agents, Coldwell Banker agents know her, as well, because she first started her Realtor career at Coldwell Banker.
"She has a long reputable career, and many of our agents know her from working with her back then," Broude said. "She is essentially a managing broker without the branch; she more works with agents about programs they're interested in, what they should be trained in and such."
In addition, agents sometimes feel like their day-to-day business might change, and even the smallest change can have a big impact on agents. For example, what if agents argue over desk space? Or feel there isn't enough marketing support? In addition to preparing for smooth transitions, managing brokers and brokerage executives should be prepared to answer questions and deal with complaints and issues among small things like desk space.
"Our own agents complain about how much space they have and what desk they have, so this is not necessarily something agents complain about as a result of transaction," Broude says. "However, I think productive agents have come to realize they want to belong to a good company with excellent resources and support to help them do their jobs. A physical presence in the office is less important if you're mobile and busy. When agents are out there, they want to be supported."
Transitioning 
No matter what the reasons are for the merger/acquisition, agents will have to adapt and transition into a new work environment – essentially like going to work for a new company. How those agents are treated and how their lives are affected by the transaction will likely play an important role in agent retention and the success – or failure – of the newly combined brokerage.
Rouso and Shiparski say that easing a transition to new management and ensuring that the majority of staff stay on board begins with honesty and patience.
"At the end of the day, it's hugely emotional, and agents always have the choice to move elsewhere," Shiparski says. "It's important to build trust as soon as possible, and communication is a huge part of that."
Broude wouldn't comment on how many Keller Williams agents left Coldwell Banker and how many stayed 90 days later, but she did say that Coldwell Banker's expectations were exceeded. "There were hundreds of agents within the four Keller Williams offices," Broude said. "Some Keller Williams agents have left, others have come back – overall, we're thrilled to have them as part of our family. They've shared unsolicited testimonials on Coldwell Banker's Facebook page that say how they feel such support from us."
When Baird & Warner's acquisition of Prime Property Partners was finalized, Rouso informed his agents and staff of the transition before going public with the news – a courtesy often overlooked in mergers and acquisitions. Many agents find out about mergers and acquisitions the same day the general public does. Instead of announcing the acquisition decision this way, Rouso and Baird & Warner executives held a luncheon at a local restaurant for all of his agents and staff, and more importantly, management tried to make sure the agents knew how the transaction would affect them, both financially and operationally. The president of Baird & Warner, along with a number of Baird & Warner's staff, came to the luncheon and talked about the company and about themselves. Afterwards, everyone came back to the office for a Q&A session for each agent to discuss questions or concerns they had about the acquisition, or about their careers.
My Path to Success: Natasha O'Connor
Rouso and the executives at Baird & Warner saw how vitally important it was to discuss the transition with agents before going public with the news, and to ensure that agents knew how the change would benefit their careers.
"Ninety days into the acquisition, every agent was delighted, felt it was a good move and were very impressed by the tools and strategies Baird & Warner offered," Rouso said. "Not only didn't we lose any agents, but we've added about 20 percent to the staff. That's a huge accomplishment."
Corr describes @properties approach to transitioning agents in a merger as a system that has been sharpened and honed to near perfection. The brokerage also has an additional advantage in Jimy Shannon, a transition coach, who helps all new agents – whether with @properties as a result of a merger or not – adjust to their new company.
"At @properties, we don't view it as we are hiring them to join our company, but rather they are hiring us to assist and guide them in running their small business," she said. "We ease transition by having a well thought-out, practiced and successful process in place for the agents to make a move.  It is essential that we make it as seamless as possible and eliminate any downtime in their business. We have a multi-step process in place so the agent has everything they need to conduct their business, uninterrupted, practically from the moment they arrive. It is like flipping a switch."
When it comes to the firms that are being looked at as potentially merging with another company or being acquired, managing brokers/owners of those firms need to ask themselves if they're in the position of being absorbed by a larger firm. Is staying in business as a small brokerage a financial reality for the long-term? Does the managing broker have long-term goals to stay with the brokerage? And, can the managing broker successfully provide his or her agents what they need in terms of technology and what it takes to be successful moving forward?
My Path to Success: Henry Sakowski
"To use Chambers & Cross as an example, we initially met with Cheryl Chambers, the owner, to identify whether the move would be a good fit for her current group," Corr says. "Upon the mutual decision that it was, our next step in the process was to meet with the other agents in her company and talk through all of their questions and concerns. We took them through the transition process as a group, but had one-on-one conversations with each to ensure their level of comfort making the move."
There can be a lot of extra drama and stress in mergers and acquisitions, which can make the important things agents and managing brokers should be focusing on – like agents' individual business – fall to the side. But again, with the several mergers and acquisitions within the past 18 months, we wouldn't be surprised if the industry sees even more in the next few years. And if this is true, managing brokers and agents should get used to the idea that transitioning into a new company might be a possibility one day – or, they should scope out competitors for an idea of where they might want to go to in the event the merger/acquisition isn't working for them. C.A.
Dean Rouso
Managing Broker and Director of Sales Development
Baird & Warner, La Grange
708.354.7355
[email protected]
Andy Shiparski
Managing Broker
Coldwell Banker Gold Coast
312.751.9100
[email protected]
Fran Broude
President and COO
Coldwell Banker
847.313.6510
[email protected]
Amy Corr
Managing Broker and Vice President of Brokerage Services
@properties, Winnetka
847.881.0200
[email protected]