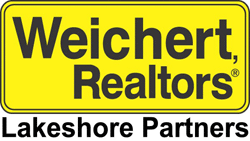 Located in north Evanston, on quaint Central Street, Weichert, Realtors Lakeshore Partners is surrounded by a multitude of restaurants, bakeries, coffee, gelato and food shops.
"We moved in about 25 pounds ago," quips Broker/Owner John Adamson. Boutiques, the branch library, a busy Metra stop and a bright yellow awning provide for high visibility, and the 46" flat-screen TV in the front window, used to promote listings and agents, draws a lot of attention, says Broker/Owner Sandra Brown.
Agents have wireless access from a host of work stations with their laptops, or in the privacy of the lower level conference room. Agents aren't tethered to the office – remote access to the office's server gives them access to their files anywhere, any time of day.
Office staff is always available to help agents as well as clients. Headed by who Brown and Adamson consider the firm's "greatest asset," office manager Julie Goncoe, the staff produces brochures, inputs listings, prepares listing presentation materials, provides marketing assistance and dispenses support and helpful advice on a multitude of topics.
"Our national web presence and marketing tools, along with our hometown personal service, create an effective combination," says Brown. "We believe that we offer the best of both worlds to our agents and our clients. They're usually surprised that by the third time they call the office, their voice is recognized."
Adamson says he and Brown never set out to be a "mega-office." The partners are pleased with how it's grown since 1991.
"We are a small firm that's big on results," Adamson says. "With our affiliation to Weichert, Realtors in 2006, we benefit by having the top traditional real estate brokerage website in the nation, increased opportunity for leads, relocation business and effective marketing materials and systems."
Years as brokers/owners: 20
Years in real estate: Brown: 26; Adamson: 34
Number of agents: 13