GREEN IS TRENDY, BUT IS IT PROFITABLE?
• By Dan Provost •
Consumers may say that they want to live in green homes. They may say they'd like bamboo flooring, energy efficient windows and even geothermal heating and cooling systems that will dramatically reduce their utility bills each year.
But when it comes to actually buying a home, green seems to be a distant priority. In today's housing market, as in any, buyers remain focused on three key factors when they're searching for a home: price, location and quality.
Unfortunately, environmentally friendly features rank far down this list, according to Tom Sailer, broker/owner with the Downers Grove office of EXIT Real Estate Partners and a holder of the EcoBroker designation, a popular green designation for real estate professionals.
Sailer emphasizes he is happy that he has his green designation, and that he learned much about environmentally friendly construction techniques while earning it. The information has helped him recommend appliances and other products to his clients. But as far as new business? The EcoBroker designation hasn't brought any to Sailer.
"I certainly do not regret getting the designation. The information I learned while acquiring it was interesting and informative," Sailer said. "But I have not gotten any response from it. I have not gotten any business from it. No one has called me up to inquire about purchasing green products or houses."
Sailer is far from alone. The real estate agents interviewed for this story agreed that while buyers are happy to live in a green-built home, especially one that features low energy consumption, choosing a residence packed with environmentally friendly features is far from a priority for them; price and location still trump green.
This is a trend that's unlikely to change in the near future, especially as the local housing market continues its long slump. Buyers are savvy, and they know that they can squeeze concessions and price reductions out of increasingly desperate sellers.
Today, that's what the vast majority of buyers are searching for: a good house in a solid location for a bargain price. Energy Star-rated appliances, low VOC paint and rooftop solar panels are nice, but they certainly aren't dictating the homes that buyers purchase today.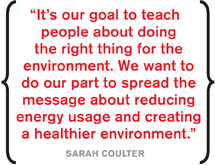 "In my market, consumers really aren't searching for green homes," said Christopher Tenggren, a real estate agent with the St. Charles office of RE/MAX Great American North. "I would say that buyers just don't understand yet the true value and advantage of owning and living in a green home."
It doesn't help, either, that every buyer has his or her own definition of what constitutes a green home.
"If you ask buyers what their opinion of green is, they'd have a different opinion from buyer to buyer. No one shares the exact opinion of what is green to them," Tenggren said.
What can cause this to change? What factors might spur a growing demand among Chicago-area buyers for green-built homes?
The agents interviewed in this story pointed to two factors: more education about the benefits of green living and, even more importantly, a return to a more stable housing market.
Education is key
Dori Gordon, a broker associate in the Wauconda office of Weichert, Realtors Goodchild Homes, carries the Green Designation from the National Association of Realtors. And while she agrees with Tenggren and Sailer that the designation hasn't directly brought her any new clients, Gordon does say that the designation has helped her serve her existing clients more effectively.
Gordon can educate her buyer clients about the benefits of high-efficiency windows and attic insulation. She can help them understand how an Energy Star-rated refrigerator can help lower their energy bills each month.
Gordon is also optimistic that buyers will search more actively for green features in the future. She compares it to seat belt use and recycling. There was a time when neither activity seemed natural to the majority of U.S. consumers. Those days, though, are long gone. Today, homeowners don't hesitate to throw their old newspapers and milk cartons in the recycling bins that sit next to their garbage cans. And most drivers are surprised if their passengers fail to click their seatbelts as they enter their cars.
"I think it's all about awareness," Gordon said. "People are just becoming more aware of green features and how they can benefit them. It takes time. And you have to consider the economy, too. In a bad economy, people need to save money in whatever way they can. They can save a significant amount of money with efficient appliances and other green features. I think as time moves on, it'll be just like recycling. Green features will be almost taken for granted."
Sarah Coulter, director of sustainability and a Realtor with the Lincoln Park office of @properties, is truly committed to green living. She's earned her LEED AP designation from the U.S. Green Building Council. She's also one of two residential green building advocates with the Illinois chapter of this council.
Green isn't a fad for Coulter; it's a passion. Coulter agrees that most buyers don't list green features among their top reasons for buying a home. But she's also seeing a gradual increase in interest among consumers for green features. Sellers who promote their own homes' green features have a definite advantage when trying to move their properties, Coulter said.
"Energy costs are rising today. People have to figure out ways to reduce the amount of money they spend," Coulter said. "This is true even if it means making a larger upfront investment. In the long run, energy efficient products will save you money. Of course, every home-improvement project has its own payback period. But the energy savings will add up. They will add up to a significant amount."
Agents can help speed this process by doing their part to educate their clients about the benefits of green homes.
Not only do green features reduce the cost of operating a home – sometimes dramatically – they also give sellers an advantage when they're listing their residences. Green may not be the most important factor in selling a house, but if buyers are considering two similar homes listed for roughly equal prices, odds are good that they'll choose the home that is energy efficient, as long as the listing real estate agent makes sure to promote this fact.
Coulter fills out a Green Disclosure form provided by MRED whenever she lists a residence that boasts green features. Buyers when searching this MLS have the option to search for homes that have Green Disclosures attached to them. This increases the visibility of green homes among the buyers most likely to care about energy efficiency, interior air quality and other benefits of a green-built residence.
Coulter expects more buyers to use the green search feature in the near future. One of the goals of the Illinois chapter of the Green Building Council is to host more consumer workshops and events designed to promote the benefits of green living, she said. Such outreach should teach buyers just how beneficial a green-built home could be, Coulter said.
"We want to get out in front of the public more often," Coulter said. "It's our goal to teach people about doing the right thing for the environment. We want to do our part to spread the message about reducing energy usage and creating a healthier environment."
Tenggren said he has already seen agents increase their education efforts. This has resulted in consumers who, today, know more about the benefits of energy efficient appliances and well-insulated houses.
"Over the last five years, I've seen a great increase in the availability of green materials and in the awareness of buyers," Tenggren said. "There are actually now green home-improvement stores in the Chicago area. A lot of home builders don't know about these stores, but they are out there."
Tenggren sits on the green committee of the MRED Multiple Listing Service. During a recent meeting, officials with that MLS reported that in the last five years the number of Multiple Listing Services across the country that give users the option to search for homes that have green features has jumped from about 5 percent to 20 percent.
This, Tenggren says, is additional evidence that consumers are getting the positive message about green features.
"Slowly the information is being made more available to Realtors," Tenggren said. "Right now, a lot of Realtors still aren't educated about green features and don't really understand what third-party environmental certifications are all about. A lot still don't understand the value in greening a home to its fullest. Many people think they're being green just because they have bamboo floors or use CFL light bulbs. They don't realize that the paints they use or the cleaning materials that they choose may be harmful to the sustainability of the environment. But this is all starting to change. And I think it's a trend that we'll continue to see."
Even though her green designation hasn't directly brought Gordon any new clients, it has provided her with a tangible benefit: she now better understands green technology, and this helps Gordon's buyer clients buy better homes. Her green knowledge also helps Gordon create more effective listing presentations for her sellers, ones that highlight the energy and dollar savings that homes' green features provide.
This leaves Gordon with both buyer and seller clients who are pleased with her service, which generates referrals and, of course, the future business that comes with them.
"I can't say that the green designation has actually brought me business as far as people finding me on the Web because of my designation. But to me it's more about the knowledge base. It's about working with my clients and giving them the best information and service possible," Gordon said. "I am far more aware of what green can mean to a home. And that allows me to bring value to clients who might not even be considering those features. Even if my clients aren't all that interested in green features, I can point out things as we are viewing homes that can bring the benefits of green to the forefront."
Are more of your clients asking for green homes or green features in homes?
No (73%, 11 Votes)
Yes (27%, 4 Votes)
Total Voters: 15

Loading ...
The challenging market
Sailer, too, has no regrets about earning his green designation. There's no way to put a dollar value on the information he took in while earning the designation, he said. And this knowledge, as it has with Gordon, will help Sailer better serve his clients.
But as long as the housing market remains in its troubled state, Sailer said, agents shouldn't expect buyers to focus on green features when searching for new homes.
"The market is extremely stressed today, as everyone on God's green earth knows," Sailer said. "The clients that I am seeing do not care about green right now. People are thinking about the economy. They're thinking about the prices they are paying for homes today."
A large number of homeowners listing their residences are selling their homes through short sales. The way Sailer sees it, this is a trend that isn't likely to change any time soon. The data from recent studies, such as the depressing numbers contained in the most recent S&P/Case-Shiller Home Price Index, indicate that housing values aren't likely to rise in the near future.
This kind of grim market tends to put more focus on sales prices, Sailer said.
"The buyers are interested in bargains," Sailer said. "They are not looking at green or environmental issues. They are looking for where they can get the most for their money."
Because of this, Sailer's green designation hasn't merited even a mention from his clients.
"It doesn't even come up in the conversation," Sailer said. "I have not had one client ask about it. I have EcoBroker on everything. It's not as though I don't promote it. I include it in my press releases. I publicize the fact that I have received the designation. It's on my e-mails and business cards, everything. But not one single person has even asked me what it means."
Tenggren, who has also earned the green designation from the National Association of Realtors has seen a lack of interest on the part of most buyers, too, when it comes to green homes.
This has been most evident with the green home he is representing in Elgin. This home, which is less expensive to operate and healthier to live in because of its green features, came on the market in late May. At press time, the home, despite its strong green credentials and LEED Platinum certification, has attracted just two showings.
"There just hasn't been a lot of activity," Tenggren said. "I'm baffled that we haven't had more activity than we've had. The builder took this home all the way back to the studs when renovating it. It is now only one of a few LEED Platinum-certified rehabs in the state. I'm just surprised that buyers haven't shown more interest in it."
The home, a four-bedroom, three-bathroom residence located at 336 Wabash St. in Elgin, would bring plenty of benefits to buyers, Tenggren said. The home consumes less energy than do properties similar to it. It's also a healthier house thanks to the materials used to build it, Tenggren said. But even with a reasonable price tag of $179,000, the home hasn't attracted nearly as much interest as Tenggren had expected.
"I think part of the problem is that many buyers don't always understand the health advantage involved in using green materials," Tenggren said. "That should come with time. This home is the first of its kind in the Fox Valley when it comes to the certifications that it, as a rehab, has. The interior air quality and living conditions are much higher in a home in which green materials are used. These homes are less costly to operate each year, too. Once more buyers recognize this, I think you'll see a much stronger interest in green homes."
For her part, Coulter doesn't doubt that consumers will soon start seeking out green features, especially those related to reducing energy costs. She just looks to the West Coast, and California, in particular – newly built homes in California today have to meet LEED-certified standards when it comes to how much energy they consume.
"If that is going on in California, and knowing how things filter in from the coasts, I think this is a telling sign," Coulter said. "Just look at the cost of energy today. It's on the rise. People are going to want homes that use as little energy as possible. And that's a key component of green building." C.A.
Tom Sailer
Exit Real Estate Partners
630.926.4828
tomsailer@gmail.com
Chris Tenggren
RE/MAX Great American North
630.513.0222
Christopher@HomesInTheFoxValley.com
Sarah Coulter
@properties
312.254.0200
sarahcoulter@atproperties.com
Dori Gordon
Weichert, Realty – Goodchild Homes
847.670.1500
dori@goodchildhomes.com