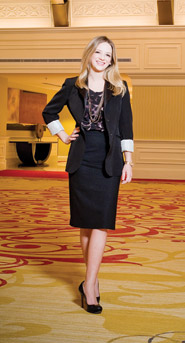 Number of years in real estate: 5
Describe your look: Classic, feminine and chic.
What do you consider a "fashion don't"? Being underdressed. It is always far better to be overdressed than underdressed.
What is your favorite piece of clothing and why? A black dress. It goes from day to night, is fun to accessorize, and never goes out of style.
What do you consider a must-have accessory? A great watch.
What is a fashion crime you have committed in the past? Junior high was a series of serious fashion crimes; my clothes were too big and I loved patterns. There was nothing cool about it, and yet, I wore my clothes with confidence.
Where are your favorite places to shop? Banana Republic, J. Crew and Ann Taylor.
What, besides your wardrobe, completes your look? Confidence.
Tuxedo Blazer-Banana Republic
Moody Leopard Silk Shell-Ann Taylor
Black Suiting Pencil Skirt-Banana Republic
Black Python Platform Pumps-Ann Taylor
Mixed Media Tiered Gunmetal Necklace-Banana Republic
Two-Tone Watch-Michael Kors
Diamond Studs-My own
Special thanks to the JW Marriott for the location of the photo shoot.