More than half of Illinois counties reported gains in the median home sale price during the third quarter of 2010 compared to a year ago despite the post-tax credit slowdown in sales activity. According to the Illinois Association of Realtors (IAR) third quarter 2010 report, Illinois home sales (which include single-family homes and condominiums) totaled 24,628 in the third quarter, down 24.9 percent from 32,776 home sales in the same period a year ago. The third quarter statewide median home sale price was $154,000, down 6.1 percent from $164,000 in the third quarter of 2009. The median is a typical market price where half the homes sold for more, half sold for less.
"Home sales totals in the third quarter are evidence buyers sped up their home purchases to get the tax credit incentive while momentum toward price stabilization proved resilient in some markets and tempered in others," said REALTOR Sheryl Grider Whitehurst, ABR, CRB, GRI, president of the Illinois Association of REALTORS and the Development and Operations Coordinator for Traders Realty in Peoria. "For the housing market to move forward in this post-stimulus environment will require much stronger signals that the economy, jobs and foreclosure outlooks are improving."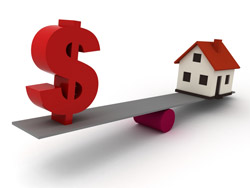 Adds Whitehurst: "Looking ahead to the typically slower holiday months, buyers will still find exceptional affordability conditions with low mortgage interest rates and home prices."
The 3Q10 interest rate for 30-year, fixed-rate mortgages averaged 4.45 percent in the North Central Region, according to the Federal Home Loan Mortgage Corporation. It was down from 4.94 percent in the second quarter and down from 5.28 percent a year ago in 3Q09.
"The national and regional economies continue to under-perform even though the National Bureau of Economic Research indicated that the economic recovery began in July 2009; there is broad agreement that the pace of recovery needs to be accelerated," said Dr. Geoffrey J.D. Hewings, director of the Regional Economics Applications Laboratory (REAL) of the University of Illinois. "Since the beginning of the recession in December 2007, Illinois has added jobs in eight months and suffered declines in 24. If account is taking of population (and thus the labor force growth), Illinois would need to add 450,600 more jobs to put it in a comparable position to the last peak level recorded in November 2000."
In the Chicagoland Primary Metropolitan Statistical Area (PMSA) total home sales (single-family and condominiums) were down 22.4 percent in the third quarter of 2010 to 16,520 homes sold compared to 21,297 home sales in the third quarter of 2009. The Chicagoland PMSA third quarter 2010 median price was $188,666, down 8.0 percent from $205,000 in the third quarter of 2009.
More than half of Illinois counties (51 of 99 counties reporting) posted median price increases in the third quarter of 2010 compared to the same period in 2009 including: Champaign, up 4.1 percent to $147,500; DuPage, up 0.6 percent to $238,627; Knox, up 10.3 percent to $75,000; Lake, up 4.2 percent to $216,700; Madison, up 5.0 percent to $121,500; Saint Clair, up 15.7 percent to $141,950; Sangamon, up 3.9 percent to $124,000; and Tazewell, up 6.6 percent to $127,900.
In the city of Chicago, total home sales (single-family and condominiums) in the third quarter were down 23.1 percent to 4,477 sales compared to 5,820 sales in the third quarter of 2009. The city of Chicago median price in the third quarter was down 16.1 percent to $192,900 from $230,000 in third quarter 2009.
"The third quarter of 2010 reflects a different marketplace than the same period in 2009, when buyers were incentivized with $8,000 and $6,500, respectively, for first-time and move-up home purchases," said Mabel Guzman, president of the Chicago Association of Realtors and a Realtor with Su Familia Real Estate, Chicago. "Today, tightened credit practices paired with a lack of consumer confidence continue to make homebuying a challenge for those potentially on the fence. Positive signs, however, can be seen in the stabilization of the average price in the city of Chicago and the ongoing investment in distressed properties throughout the city."
Sales and price information is generated from a survey of Multiple Listing Service sales reported by 35 participating Illinois Realtor local boards and associations. The Chicago PMSA, as defined by the U.S. Census Bureau, includes the counties of Cook, DeKalb, DuPage, Grundy, Kane, Kendall, Lake, McHenry and Will.
IAR is a voluntary trade association whose 46,000 members are engaged in all facets of the real estate industry. Detailed third quarter 2010 Illinois home sales data can be accessed at the IAR website, www.illinoisrealtor.org, click on Market Stats.