2010 Agents' Choice Awards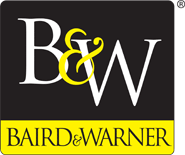 Baird & Warner
For over 150 years, Baird & Warner has been a force in Chicagoland real estate, building a record of success and longevity unparalleled in the industry, with five generations of family ownership doing what's right, taking a stand and making a difference for people in real estate. Baird & Warner is also a progressive company, with a long-standing heartfelt commitment to the principles of Fair Housing and diversity driven by independent and local family ownership.
This heritage empowers Baird & Warner to reinvent the company and capabilities to meet the constantly evolving needs of the people it serves. Baird & Warner continuously seeks out the most promising innovations while developing new solutions and services for clients – that's how the nation's oldest real estate company remains so young. The company's sensitivity to the marketplace comes from a single yet powerful perspective: of a company for whom Chicago is more than just a market; it's home.
Baird & Warner is constantly and relentlessly reinventing, and developing new solutions for clients — 150 years ago, today and into the future.
" We are honored to be nominated for the second straight year, recognizing our strength and innovation in the luxury market." STEPHEN BAIRD, PRESIDENT AND CEO, BAIRD & WARNER

OTHER NOMINEES: Keller Williams; Prudential Rubloff