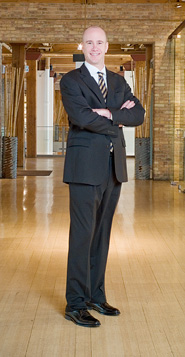 Bank of America Home Loans, River North
Number of years in real estate: 7
Describe your look: Classically timeless
What do you consider a "fashion don't"? People not dressing their age, for sure. Rat tails and full sweat suits are a close second.
What is your favorite piece of clothing and why? Professionally, my ties. I like them to make a statement about me for that day. Personally, my Cubs road jersey circa 1984.
What do you consider a must-have accessory? A calculator and a pen
What is a fashion crime you have committed in the past? I used to wear cutoff sweatpants to school until around the fifth grade because recess was more important than girls. Or you could throw in the rolling of the pants.
Where are your favorite places to shop?
Banana Republic, Brooks Brothers, JoS. A. Bank, thrift t-shirt stores
What, besides your wardrobe, completes your look?
Sense of humor, charisma, confidence
Suit-JoS. A. Bank
Shirt-Banana Republic
Tie-Sean John/Cravatte
Shoes-Mercanti Fiorentini
Sunglasses-Ray-Ban
SPECIAL THANKS TO The River East arts center FOR THE LOCATION OF THE PHOTO SHOOT.