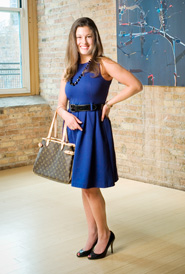 Prudential Preferred Properties, Lakeview
Number of years in real estate: 4
Describe your look: Professional and feminine. I like to combine high-end pieces with inexpensive items to create a unique look.
What do you consider a "fashion don't"? Clothing that isn't well tailored or doesn't fit properly
What is your favorite piece of clothing and why? My black Banana Republic tank dress. It matches almost everything, doesn't wrinkle and is easy to throw on when I need to look polished in a pinch.
What do you consider a must-have accessory? I'm short, so I can't live without great heels.
What is a fashion crime you have committed in the past? Plaid, enough said
Where are your favorite places to shop? Banana Republic for the basics, and local boutiques for specialty items and accessories
What, besides your wardrobe, completes your look? Confidence and energy
Dress-Theory
Shoes-Aldo
Earrings-Cartier
Necklace-M2
Ring-Family heirloom
Watch-Charriol
Handbag-Louis Vuitton