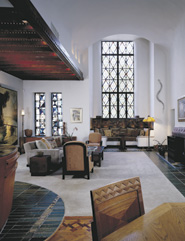 Co-op commission 2.25% -$150
The home at 155 West Burton Place is an Edgar Miller Restoration that reestablishes the look and feel of the original Edgar Miller home. The house was originally built in 1880, and then Miller, a Chicago Renaissance artist, renovated the house and used it as a studio in the 1930s. The 5,500-square-foot home has three bedrooms, three full bathrooms and two one-half bathrooms. Consisting of three different units and multilevel tiers, the home features a new kitchen with custom cabinets by American Custom Woodwork, a master bathroom recreated with tile in the vein of Miller's artwork and a new banquette in the living room designed by Karen Mozer. Various pieces of Miller's art are featured throughout the home, and much of Miller's original handwork is restored by Kathryn Quinn Architects. Additionally, some of the major built-in pieces from Miller's supervision in the 1930s are preserved, such as a dining room buffet that curves around a corner and a formal dining set.
For more information, call Millie Rosenbloom of Baird & Warner at 312.980.1517 or e-mail her at millie.rosenbloom@bairdwarner.com.
FEATURES
3 bedrooms
3.2 bathrooms
Custom cabinets by American Custom Woodwork
Original Edgar Miller artwork