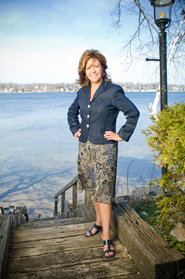 Keefe Real Estate, Geneva Lakes and Southeastern Wisconsin
Number of years in real estate: 13 years
Describe your look: Business casual
What do you consider a "fashion don't?" Clothes that are too tight, which is why I tend to wear clothes that are too big.
What is your favorite piece of clothing and why? In the summer, a casual sundress with sandals – one that goes from day to evening.
What do you consider a must-have accessory? A great pair of shoes. For spring and summer a great sandal with a nice heel (show off that fun pedicure). For fall and winter stylish boots.
Do you think Wisconsin style is different than Chicago? Lake Geneva may seem more "resort causal," whereas Chicago is a bit more formal. However, I personally tend to dress to suit the clientele and type of property I am working with at the time.
What is a fashion crime you have committed in the past? Wearing clothes that are too big
Where are your favorite places to shop? Ralph Lauren, Nordstrom, Carson Pirie Scott and Ann Taylor
What, besides your wardrobe, completes your look? A genuine caring smile and enthusiasm for my work.
Blazer-Ralph Lauren
Skirt-Ralph Lauren
Shoes-Anne Klein
Tank Top -Ann Taylor
Jewelry-Silversmith Boutique in Puerto Vallarta