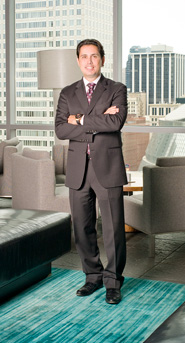 Luxury Home Council, Michigan Avenue, Gold Coast/River North/Lincoln Park/Lakeview
Number of years in real estate: 7
Describe your look: Classically refined
What do you consider a "fashion don't"? Sportswear in a business environment
What is your favorite piece of clothing and why? A light cream colored pull over Pal Zileri zip-up sweater! It truly goes with everything and it is light enough to wear year-round.
What do you consider a must-have accessory? At least one classic watch.
What is a fashion crime you have committed in the past? Showing up underdressed!
Where are your favorite places to shop? I despise shopping; my partner typically buys and selects my wardrobe.
What, besides your wardrobe, completes your look? Definitely shoes and watches!
Suit: Armani
Tie: Canali
Shirt: Dolce & Gabbana
Shoes: Louis Vuitton
Watch: Hublot
SPECIAL THANKS TO THE WIT HOTEL FOR THE LOCATION OF THE PHOTO SHOOT.