River East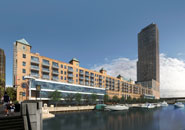 Located in the former North Pier Terminal building, The Lofts at River East Art Center will have 10-foot ceilings, Euro-style cabinetry, Bosch stainless steel appliances and hardwood flooring throughout the main living areas. Panoramic windows afford residents views of Chicago's skyline, the Chicago River and the lakefront. All homes feature private balconies.
Residents located on the south side of the building have views of the Ogden Slip, while those facing the north gain views of a new landscaped, 2-acre park located directly across the street. The building also offers services of a 24-hour doorman, receiving room and bicycle room.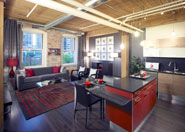 MCL Companies began the conversion process last year at River East Art Center, 401-465 E. Illinois St. One-, two- and three-bedroom condos will be ready for delivery in early 2009 and are priced from $434,600 to $918.600.
The plan calls for floors four through six to be renovated for condominium conversion. There will be 150 new condominiums in all.
Dedicated entries will be created for the residential space. Construction is currently underway and the first move-ins are scheduled for early 2009.
The River East Art Center is a 490,000-square-foot space for artists, galleries, studios, concierge and creative retail businesses. It is also home to the gourmet supermarket Fox & Obel and the upscale restaurant/nightclub DeLaCosta.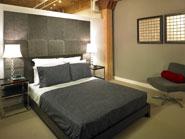 When completed in 2010, the 13-acre, $1.5 billion development, located along the north bank of the Chicago River between Lake Michigan and Michigan Avenue, and adjacent to Navy Pier, will have added a population of 3,000 residents, parking for 4,000 cars, a hotel, shops and restaurants.
The Lofts at River East Art Center sales office is located at 445 E. Illinois St., #450. Complimentary parking is available at the North Pier Parking Garage on Illinois Street just east of the model entrance.
For further information, or to set up an appointment, call 312.836.4200, or visit mclcompanies.com.
THE LOFTS AT RIVER EAST ART CENTER
Location-401-465 E. Illinois St.
Housing Type-Condominium
Number of Units-150
Percent Sold-20%
Delivery Date-Spring 2009
Price Range-$434,600 to $918,600
Co-op-2.5%
Architect-GREC Architects
Developer-MCL Companies