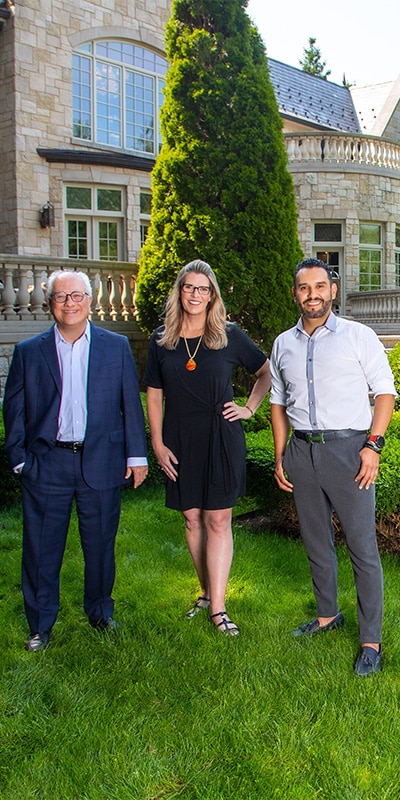 Kati Spaniak, FY 2023 Board President
Luigui Corral, FY 2023 Board President Elect
Jeff Lasky, Chief Executive Officer
Under the stewardship of President Kati Spaniak, President-Elect Luigui Corral, the rest of its Board of Directors, and Chief Executive Officer, Jeff Lasky, the North Shore-Barrington Association of Realtors (NSBAR) touts significant achievements and is positioned for marked future success. A key recent accomplishment is the completion of the group's newly renovated office. "Our welcoming new configuration invites members to linger in a comfortable, business-conducive environment, with member-dedicated space," says Lasky. NSBAR also premiered a cutting-edge website and has prioritized strategic partnerships to serve its members.
Spaniak—founder of a team by her namesake at eXp Realty—brings over a decade of sales experience to her position as NSBAR President. She earned the Icon Instructor of the Year award with her company in 2021, underscoring her dedication and prowess as a business development coach. In her role, Spaniak is actively achieving her goal to boost professional growth and dynamic collaboration among NSBAR members.
Overseeing operations as the owner and designated managing broker at RE/MAX American Dream, Corral is a prominent figure within the real estate sector with a strong commitment to excellence. Showcasing his entrepreneurial spirit in 2007, he formulated a team that drives robust growth with an influential impact. The former President of the National Association of Hispanic Real Estate Professionals (Chicago) and four-year board manager for Midwest Real Estate Data (MRED) brings his enterprising nature and vast industry knowledge to his role as President Elect of NSBAR — the first Latino to serve in this capacity in over a century.
NSBAR continues to implement its Community Outreach program and is actively working to strengthen its connections with local Chambers of Commerce. The Association also embraces many "Good Works" initiatives as a natural part of its service to the community, endorsing causes that combat homelessness and human trafficking, and supporting efforts such as the annual Skokie Lagoons Chicago River Cleanup.