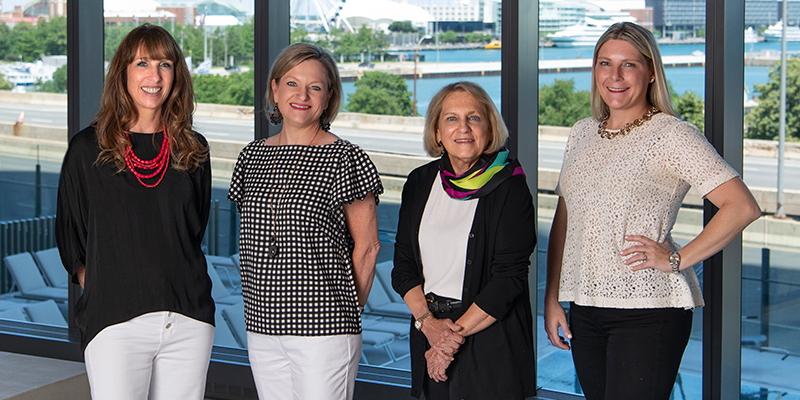 Meredith Schreiber, Realtor
Anne Branning, Broker
Lauren Weiss, Broker
Cindy Hicks, Broker
Mindi Schoof, Broker
With a combined nearly 50 years in the industry, the Schreiber Branning Weiss Team at @properties Christie's International Real Estate is there to help people from all corners of life find their forever homes.
A Chicago native through and through, Meredith Schreiber, the team Leader, is familiar with all aspects of the city. She has deep knowledge of North Shore communities and, as the certified negotiations expert for the team, works diligently to make sure clients get the most out of their transactions.
A North Shore resident since 1972, Anne Branning, a Realtor and certified residential specialist for the team, has planted deep roots in Chicago. A top producer for her career of over 35 years, she has developed a network of community connections that allows the team to have a solution to any problem at its fingertips.
Having grown up in Andersonville and raising her family in Evanston, broker Lauren Weiss is passionate about real estate and an expert on the North Shore and Chicago North Side markets. She strives to make the buying and selling process as easy as possible for her clients and is well known for bringing peace of mind while helping them fulfill their real estate dreams.
Following a successful 25-year career in marketing, Cindy Hicks, also a broker, joined the Schreiber Branning Weiss team, where she has helped further develop strategies to meet clients' needs. She saw firsthand the impact a successful home purchase can have on a family and developed a deep appreciation for helping others find that happiness.
Having called Chicago home for over 20 years, Mindi Schoof, another broker, joined the team in 2021, offering a fresh face to the industry. Establishing strong and lasting relationships has always been her priority and serves as an anchor to the Schreiber Branning Weiss team.