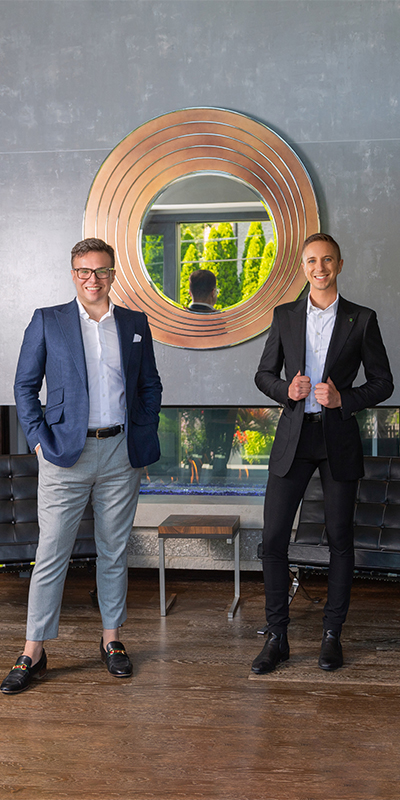 Alex Wolking, Realtor/Licensed Managing Broker
Kevin Brannon, Director of Operations
A second-generation Realtor, Alex Wolking got his start selling real estate in the Quad Cities area of Illinois and Iowa. He moved back to Chicago in 2016, rebuilding his network from scratch.
Wolking's business skyrocketed and the honors came on quickly in his career. About two years ago, however, Wolking's business hit a plateau. "I knew the only way to continue to grow and serve clients at the level I wanted was to start a team," Wolking recalls. "Seventy-two hours later, I received a text from an old acquaintance who said he was moving back to Chicago and looking to continue his real estate career here." Wolking and Kevin Brannon started working together two months later.
Since creating his team, Wolking has been named a 2021 National Association of Realtors 30 Under 30 honoree, was featured in Realtor magazine, and was recently named to the REALTrends 1000 List. In the past year alone, he and his team successfully helped 52 buyers and sellers, resulting in $26.5 million in production.
"My production doubled in 2021," Wolking says. "It was scary at first, and even though it made me uncomfortable to be a leader, and still does, I will never go back to being a solo agent. I get to focus on what I enjoy and what I'm good at, and so does Kevin. I see Kevin and value him as a partner, and we treat it like it's our business, not just mine. I trust his input. I'm inspired by his talent and work ethic, and I'm grateful I get to work with him every day."
Brannon concurs, adding that they have a running joke that Wolking is the doctor and he is the nurse: Wolking goes in for surgery (listing presentation, negotiations, etc.) and Brannon goes in to provide the tender, loving care and support to make sure everyone is taken care of. "The reason Alex and I work so well together is because we've learned to recognize and adapt to each other's' styles, balancing each other out," he says. "We always communicate to ensure nothing slips through the cracks. I couldn't ask for a better working relationship"