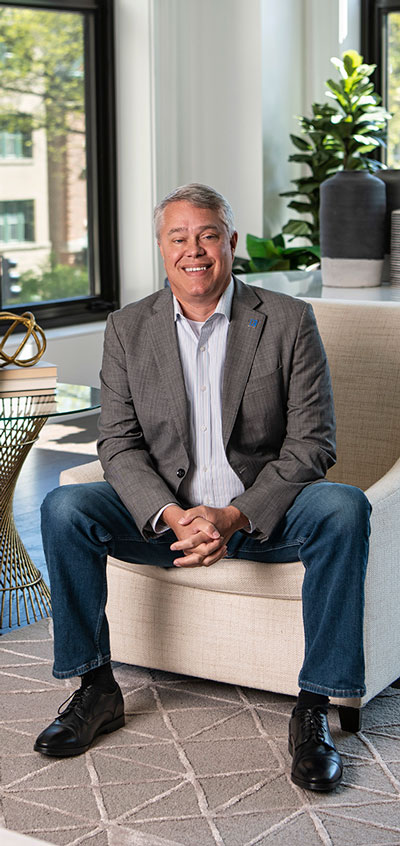 For Paul Swanson, nothing compares to the satisfaction he feels at the closing table when a client hears the words "it's funded" — and he has a lot of exciting experiences to draw from along the way. He spent almost 25 years in the music industry working with artists such as Taylor Swift, Justin Timberlake, Keith Urban and the Jonas Brothers, promoting their music as well as integrating and executing their mobile marketing partnerships.
Swanson, a Realtor with Baird & Warner, has been guiding buyers and sellers in Park Ridge and the surrounding area for the past nine years. "I am very process-driven, but in a relaxed manner," says Swanson, noting that he's flexible and goes at whatever pace a client needs. "I want my clients to have the best and most thorough information available to them as they make decisions about their buying or selling goals."
Swanson grew up in the near north suburbs and has lived in Park Ridge for 24 years. To make sure he became an expert in his territory, he joined the Park Ridge Chamber of Commerce, where he was eventually elected to the board of directors, and became involved in networking locally. "It gave me the opportunity to meet and get to know local business owners," he says, "and eventually assist several of them in home sales and purchases." He has also worked with local business owners and Maine South High School to produce short "small business spotlight" videos used for introduction and marketing purposes in the community.
Still, it's his ability to follow through, explain the process and communicate with clients throughout the transaction that has resulted in repeat and referral business. "I make sure they know that no matter what, I have their best interests in mind," says Swanson. That is why his clients know, "When you work with Paul, you're Closer to Home."