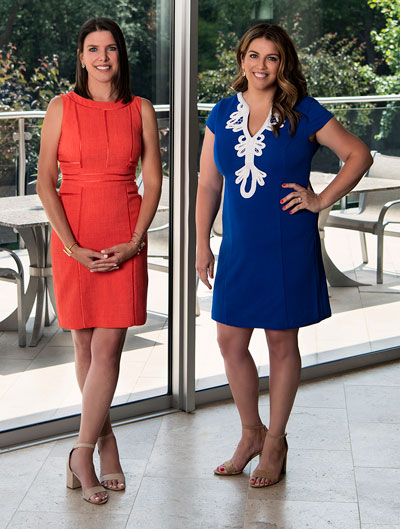 For basically everyone in real estate, 2020 was a wild year. But for calm, cool and collected Amy DeRango and Kelly Baysinger, team leaders for The PAK Group with @properties, 2020 was an opportunity to demonstrate the strong-but-no-pressure approach that characterizes how they serve clients. When they did, these two dynamic women were rocking more than just the real estate business.
"In 2020, I had my career personal best, a selling volume of $15M across 48 transactions — while pregnant with my second daughter," boasts DeRango. Meanwhile, fellow team leader Baysinger recounts, "I closed 2020 at a volume of $10M, my best year yet, while expecting my first child." That's right: These two moms were closing deals, during a pandemic, all while preparing for joyful new arrivals. To say they were "multitasking" would be an understatement!
"Clients often tell us we're great listeners and that we bring calm to a chaotic situation," the pair says. "As Realtors, we are counselors for our clients, and they depend on our advice." Both born and raised in Arlington Heights, these Chicago-area natives, who've been friends since attending John Hersey High School, serve buyers and sellers of all budgets and situations, working as a team that they say has a true family bond.
"We're unique from other teams in that we were all — five agents total — previously connected outside of this industry," they comment. Their results are undeniable: Both DeRango and Baysinger were Club winners with another company over the years, among many accolades, and continue to grow their business year after year. Now, the ladies and their team have moved to powerhouse @properties, and are reaping a mostly referrals-based business that keeps them on their toes.
Life in the past year has been full of surprises and shifts, but for DeRango and Baysinger, a solid team and quiet strength wins it every time. "We try to make this process as fun and stress-free as possible," they say.