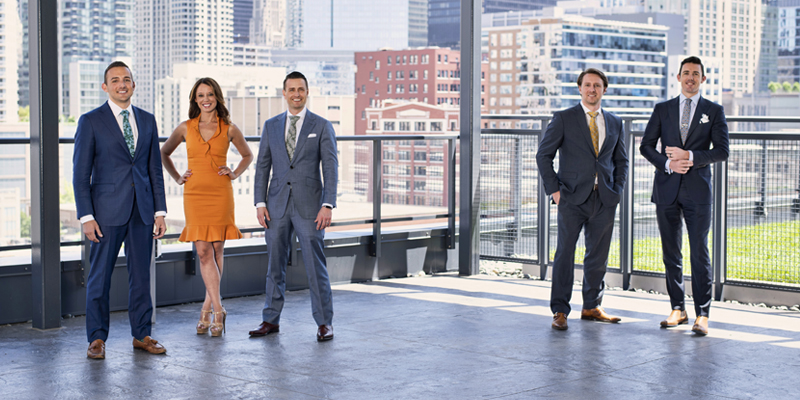 Matt Laricy, Managing Partner
Catherine Holbrook, Broker Associate
Matt Piegza, Broker Associate
Mickey Hobson, Broker Associate
Joe Rueck, Broker Associate
The Matt Laricy Group
Americorp Ltd.
A small brokerage serving first-time buyers, sellers, step-up clients, investors and the luxury market in downtown Chicago, Americorp Ltd. has seven team members, three of whom are related in some way. The close-knit group creates a family atmosphere that truly makes clients feel at ease. Led by managing partner Matt Laricy, the small brokerage finished 2017 with more than $139 million in sales and is on pace to far exceed that number this year.
"I am pretty proud we are able to do this and maintain our core values at the same time," Laricy says. To Laricy and his broker associates — Catherine Holbrook, Matt Piegza, Mickey Hobson and Joe Rueck — it's not just about the sales. It's about how much clients appreciate their services. The proof is in upwards of 800 reviews online.
Laricy finished the year as the No. 4 agent in the city. He made the National Association of Realtors' 30 under 30 list in 2013, CS magazine's 2014 Visionaire and the Wall Street Journal's Top 500 Agents each year since 2015. He is also among Crain's 2017 Most Influential Brokers, CS magazine's Power Players 2017, recipient of a 5-Star Award the past six years, and his brokerage ranked on the Inc. 5000 list of fastest-growing companies the last three years.
"There is never just one challenge," he says. "When you close more than 300 sales a year, you have more challenges than you can count every day. Frankly, for us not to have a nervous breakdown daily is a win in itself."
Laricy's well-oiled machine responds quicker than Jimmy John's: "We outwork everyone," he says. Clients appreciate their prompt response times and brutal honesty. Laricy thinks it's important to not hold back and call it how he sees it.  Most instrumental to his team's success is their ability to be advisors and remain true to themselves.  "Our clients feel we are in it for them and not the paycheck," Laricy says.
Laricy sits on the board of the Make-a-Wish Foundation and is proud to not only sponsor events, but also to raise money with other board members. In 2017, they collected more than $500,000 for the charity.
With the goal of becoming the top brokerage in the world, Laricy says the team doesn't have time for outside activities. Work is their hobby.