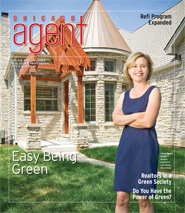 Volume 6, Issue 14, 7.20.09
Cover Story
» Easy Being Green
Great Listings
» 16913 Swift Arrow Drive, Lockport – $329,000
New Construction
» 2924 W. Wilson Ave.
Agent Snapshot
» Adam R. Skinner, EcoBroker, Broker/Owner
Associations
» Do You Have the Power of Green?
My Style
» Sarah Coulter, Real Estate Consultant
Improving Your Business
» Realtors in a Green Society
» Greenwashing: The Benedict Arnold of the Green Revolution
» Greener Options for Small Business Communications
Sidebar
» Did You Know…?
Agent About Town
» Green With Envy
Editor's Note
» Living Green