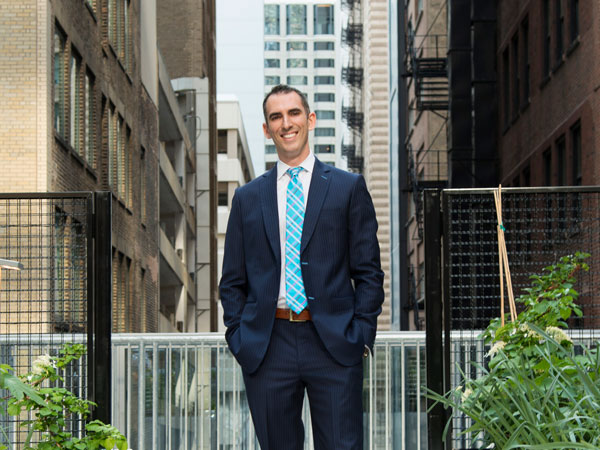 Leigh Marcus
Broker
@properties
When agents rank among the best of the best, their reputation is an incredibly valuable asset. This certainly holds true for Leigh Marcus, an @properties broker among the top 1 percent of Realtors in the U.S. and distinguished as the No. 1 individual listing agent companywide. His average list-to-sale period is 32 days, while other agents average 76. Marcus also maintains an average list-to-sale price of 99 percent while others average 96 percent. His phenomenal track record includes sales of 130 homes in 2015, and he has sold $250 million in residential transactions since entering the profession 11 years ago. "Real estate is a win-win for everyone because there are people who want to sell and people who want to buy, so my goal is to bring them together," he says.
A graduate of Indiana University Bloomington, Marcus has always been in sales, first in his career at IBM and later at technology firms. He found that the skills he strengthened in these roles had prepared him for a transition to real estate, which he describes as "the ultimate sales profession." His specialty is helping motivated sellers get top dollar for their home, which he accomplishes by taking the time and care necessary to understand their motivations and objectives. "I make certain to really listen to my clients so I know what they're striving to achieve," he says. "That enables me to deliver on their expectations so they attain their goals." Marcus also depends on his deep knowledge of the Chicagoland market to position his listings through strategic marketing.
Marcus finds his commitment to working collaboratively with his @properties colleagues has allowed him to perfect what he calls a team approach to his work. "Our team is extremely skilled and we work together to implement the best systems that ensure outstanding customer service," he says. Doing so, he adds, keeps clients as their focus and priority. It also helps Marcus ease what might otherwise be a stressful transaction because the team's support mitigates unforeseen complications. This type of teamwork has helped him sell more than 100 homes every year.
"I believe in being open and honest with sellers because transparency is essential when building relationships," says Marcus. "That's why I always tell my clients the truth and ask that they respect me enough to do the same, which has allowed us to enjoy fantastic success." He says his wife and children inspire him. When he isn't selling real estate, Marcus volunteers at area schools to give back to his community. "My mission is to be the best me I can be, and I trust that comes through in everything I do, both personally and professionally."
Thanks to MILA for letting us use their beautiful location for our photo shoots.