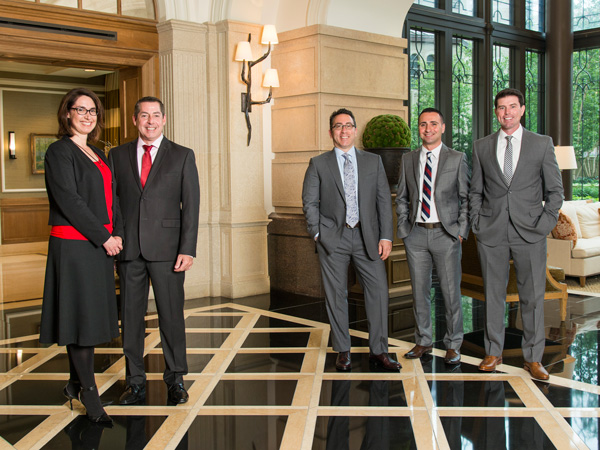 Alice Jordan, Buyer Specialist
Kevin Fitzgerald, Buyer Specialist
Mario Greco, Founder
John Dasdelen, Sales & Marketing
J. Haakon Knutson, Director of Sales
The MG Group
Berkshire Hathaway HomeServices KoenigRubloff
With more than $1 billion in sales since its founding, The Wall Street Journal has perennially ranked The MG Group No. 1 in Illinois in team transactions and among the Top 40 in the U.S. since 2011. Recognized as a Top 25 Luxury Brokerage in Chicago by Merchandise Mart's LUXEHOME 25, the firm and its people strategically execute each transaction to ensure a streamlined process from start to finish. "Our goal is to serve all of our clients' needs, no matter the price point, location or timeframe," says founder Mario Greco, an attorney turned Realtor who uniquely wed his legal and engineering expertise to launch his real estate career in 2002.
A Chicago native, Mario specialized in intellectual property litigation before deciding to establish a part-time brokerage. Today, The MG Group boasts a team of 25 professionals – including dedicated office staff – who specialize in representing buyers and sellers of all types of property. Annually recognized among Chicago's top 1 percent of Realtors since 2002, Mario explains that the value he and his colleagues attribute to every client makes their approach to the industry unrivaled. "Our clients come before everything – including our personal interests – except our families," he says. "Although all agents pay lip service to customer service, we actually provide it with exemplary market knowledge, consistent pricing accuracy, incredible organization, ardent attention to detail and a 'smart' work ethic – this is why we stand out in the industry."
Director of Sales J. Haakon Knutson agrees. "A client entrusts me to handle one of the largest transactions in their life, which means I owe them 24-7 dedication and attention." Also a lawyer, he leverages his ability to understand and effectively negotiate contracts to his clients' advantage. "Clients often focus on putting a property under contract without understanding all of the steps involved, but I always take time to discuss the inner workings of a transaction to make sure they're comfortable with our strategy," he explains. In addition, his leadership role provides the ideal opportunity to successfully coach MG Group agents so that they, their clients and the Group realize the kind of winning results they all desire.
John Dasdelen, an MG Group Sales & Marketing professional, draws on his Master of Business Administration with a concentration in real estate as well as his bank management experience to both deliver results for his clients and build lasting relationships with them. He collaborates closely with sellers to appropriately valuate their home, conduct showings and negotiate offers, all of which contributed to The MG Group's ability to close more than 300 transactions in 2014 – the Group's average since 2011. This included what he describes as his greatest professional achievement. "I accurately priced and aggressively marketed a new four-unit condominium building for a developer, which led us to sell out the entire building in less than one week, and at record high sale prices for the area during a stagnant stretch in the overall market."
Colleague Alice Jordan, following in the footsteps of her family's success in real estate investments, also lends her talent to the Sales & Marketing team. Courageously, she decided to pursue a real estate career in 2010 when the industry was in the depths of the recession but with a spirit of determination, she quickly found success and accomplished her goals by winning numerous sales contests, awards and client loyalty. Moreover, the combination of her background in theater and hospitality help her understand both the business and human elements of real estate. "Being an effective negotiator, communicator and peacekeeper are some of the most important skills a Realtor can have," she points out, adding that a sense of humor helps bridge communication gaps and put people at ease.
Kevin Fitzgerald, a former real estate investor, dedicates his talents exclusively to buyers, which he appreciates the opportunity to do at The MG Group because he derives "tremendous satisfaction from helping someone realize their goals and dreams." He describes his greatest professional achievement as a client's decision to come back again and again, like the current client for whom he led both his first MG Group transaction, and closed his first short sale purchase. While he realizes that a property purchase can be as complex as it is stressful, he recognizes that everyone involved in a real estate transaction plays a pivotal role in its ultimate outcome. "We have a goal to get the job done, to get it done well and to help make everyone involved happy. If we all work well together, then everyone wins."