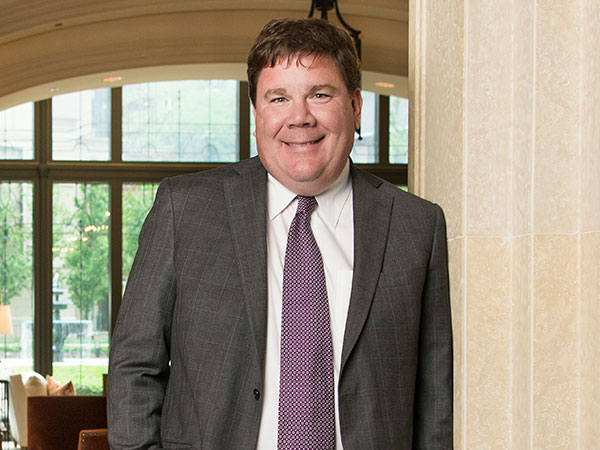 Hugh Rider
President, Chicago Association of REALTORS
Co-President/Managing Broker, Realty & Mortgage Co.
Hugh Rider remembers being assigned to destroy old Multiple Listing Service (MLS) books as a boy in his Realtor father's office. "Doing that taught me that manual labor isn't for me!" he laughs. But what he took to heart were more important life lessons that his father instilled within him like what it means to give one's word and the benefits of treating people fairly. Today this third-generation property manager and Realtor leverages his 20 years of experience to lead the family-owned Realty & Mortgage Co.
Although he previously worked in human resources, Rider eventually recognized that real estate is his true calling. Not only does what he calls a "no-nonsense, street-level understanding of buildings and tenants" make him stand out among other property managers, but so do his licensing and experience as a Realtor, which not many property managers can boast. "Our philosophy is to treat clients like we'd want to be treated even as we try to understand their problems and concerns," Rider explains. "Owners want to maximize returns and provide affordable housing while residents want to enjoy where they live and have a place to call home, so we're essentially all striving toward a common goal of satisfaction."
In addition to his efforts to manage high-quality residences throughout the city, Rider has helped the Chicago Association of Realtors advocate for the real estate industry with city council members and state legislators. As that organization's president, he has also played a pivotal role in coalescing groups such as the Chicagoland Apartment Association, Home Builders Association of Greater Chicago and Lincoln Park Builders of Chicago for networking activities that will hopefully spur future and ongoing collaboration.
A member of several professional associations as well as an honoree in the Realtors Political Action Committee Hall of Fame, Rider spends his free time with his wife and three children, as well as volunteering for the boards of various schools. His greatest achievement, he says, has been his work to redevelop and revitalize underserved neighborhoods in Chicago and Evanston. And while his family continues to manage properties across Chicagoland, Rider is confident that he can stand by the integrity of those residences because they reflect his commitment to helping people lead happy lives. "It makes me feel proud knowing that we manage quality properties, the kind of properties that I feel good about putting my name on at the end of the day."