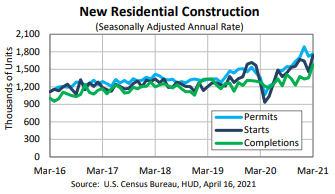 The pace of new residential construction surged in March, providing hope of some relief for a residential real estate market desperate for an increase in homes for sale.
Privately owned housing starts jumped 19.4% from February's revised estimate to a seasonally adjusted annual rate of 1,739,000, according to the U.S. Census Bureau and the Department of Housing and Urban Development. Year over year, that represents a 37% gain from the March 2020 rate of 1,269,000.
"March housing starts data provided good news for a housing market parched for supply," First American Deputy Chief Economist Odeta Kushi said in a release. "Another positive indicator is the overall number of permits issued for single-family homes, which can signal how much construction is in the pipeline."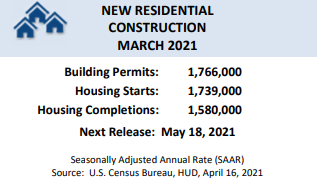 The seasonally adjusted annual rate for privately owned housing units authorized by building permits hit 1,766,000 in March, up 2.7% from February's revised rate and up 30.2% from March 2020.
Privately owned housing completions hit an annual rate of 1,580,000 in March, up 16.6% from February and 23.4% from a year earlier.
"An increase in completions mean more homes on the market in the short-term, providing immediate relief to home buyers in supply-constrained markets," Kushi said.
"After 13 straight years of underproduction – the chief cause for today's inventory shortage – this construction boom needs to last for at least three years to make up for the past shortfall," National Association Realtors Chief Economist Lawrence Yun said in a release. "As trade-up buyers purchase newly constructed homes, their prior homes will show up in MLSs, and hence, more choices for consumers."
By region, March new construction activity was strongest in the Midwest, where it surged 122.8% from February, followed by the Northeast, with a 64% jump and the South, with a 13.5% gain. The pace of housing starts fell by 13.6% in the West, however.