RE/MAX's housing report for the Chicago area found the new year started off with a bang. Home sales were up 9.7 percent over this same time last year.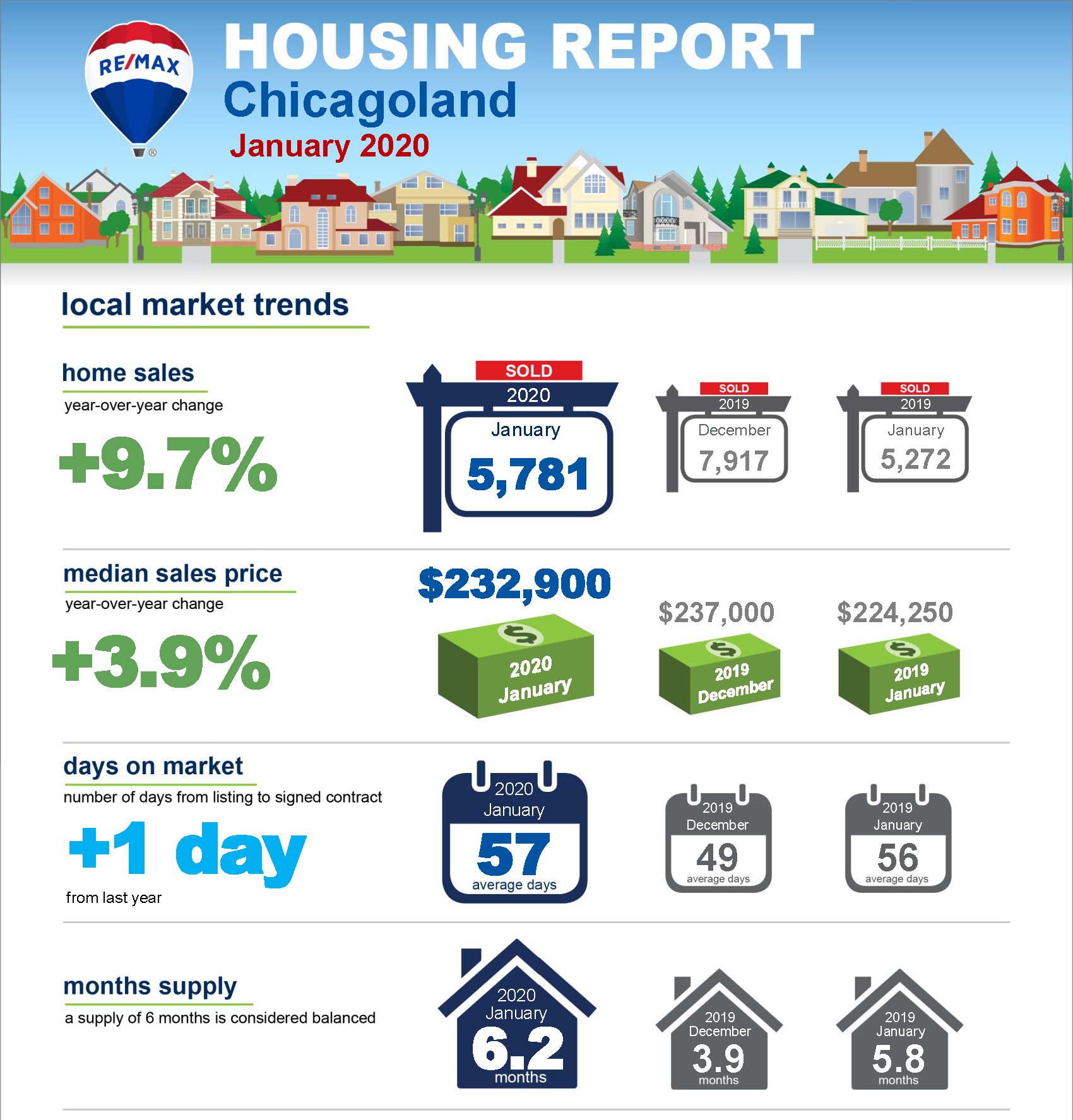 Every county tracked by the brokerage's Chicagoland report marked a positive change in year-over-year activity other than Grundy, which remained neutral, and Kendall, which recorded a 19.6 percent decline from last year. Lake County saw the most dramatic increase in home sales, with a 23.5 percent boost over last year.
To put the year-over-year comparisons into context, January 2019 was a pretty abysmal month for sales; at this time last year, RE/MAX's report logged an 11.2 percent year-over-year decrease in activity. Also, since last month saw an even larger year-over-year change, the January 2020 sales numbers actually declined month over month.
The Chicagoland increase in activity appears to be in line with that seen across the rest of the country, with a 10.5 percent increase in sales at the national level, according to RE/MAX.
The median sales price in Chicagoland continued its steady climb at a rate of 3.9 percent year over year. Kane County saw the biggest price increase by far, at 13.9 percent. Grundy and Kendall counties saw price decreases of 21.2 and 1.5 percent, respectively.
Inventory crossed over the symbolic 6-month line into territory that the National Association of Realtors considers "balanced," landing at a 6.2-months' supply in Chicagoland. Though that's not that much higher than it was in January 2019, it's a significant jump over December's 3.9-month figure and also marks the highest level reported in the last year.
Paul Wells of RE/MAX in Barrington noted that — alongside low interest rates and positive economic indicators overall — a milder-than-usual January may also be a factor. "One of the most overlooked motivators is the weather. Relatively mild temperatures combined with low snow totals have enabled buyers to continue their hunting throughout most of this winter season. If this weather continues, you can expect even more increased action in the months to come," he said in a press release accompanying the data.