Last week, an interview with Baird & Warner CEO Steve Baird went up online asking him his point of view on the pending lawsuits over buyer's representation currently working their way through the courts. Though it was titled "Baird & Warner CEO: 'The buyer should pay the buyer agent,'" his thoughts on the topic were not necessarily revelatory or exhaustive; in fact it was one of the shortest responses in the Q&A:
At the end of the day, people are going to use buyers agents and they are going to pay them somehow. So, are we going to change the way we pay? Maybe. I don't know, I haven't really read the lawsuit. You're not going to get a situation where buyers are represented for nothing, they're going to get paid somehow or people are not going to move into the business and they're not going to provide that service. We will adjust like way back when buyers' agents were subagents. My own particular view is that the buyer should pay the buyer agent and the seller should pay the seller agent. It's coopted in different markets depending on local custom. That's the way it's done in the commercial business.
Still, the piece got us thinking at Chicago Agent magazine. Chicagoland has a lot of smart real estate executives: Do they think the lawsuits have merit? How do other company owners here see the industry changing if these suits are successful?
The merit of the lawsuits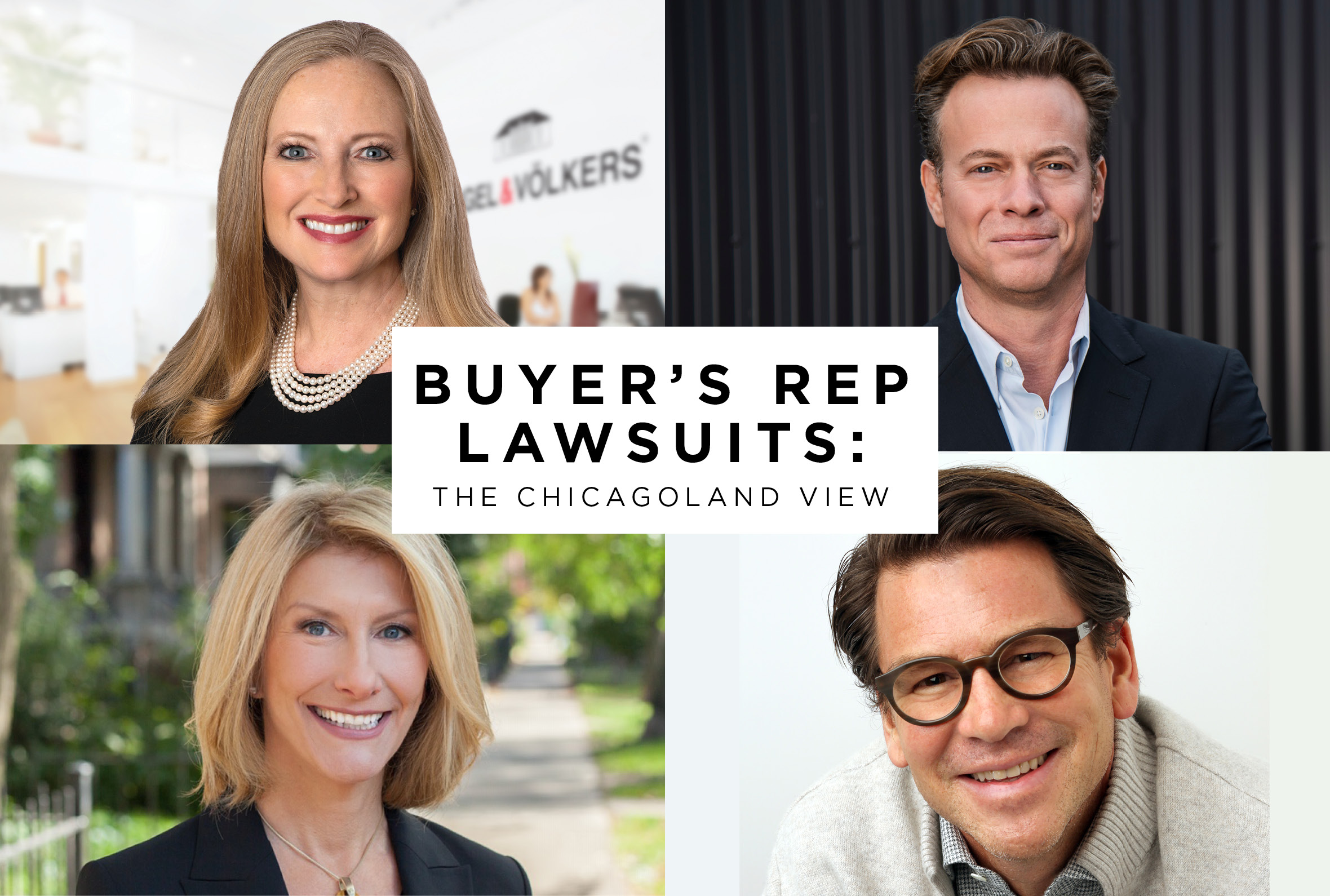 On the topic of whether the defendants in the two class-action suits have a case in their charge that buy-side brokers' compensation is non-negotiable and that this drives up costs and stifles competition, guarded optimism might be the best descriptor for how Chicagoland real estate executives are feeling at the moment.
Yuval Degani, founder of Dream Town Realty, told Chicago Agent magazine he believes the cases have no merit. "The claim that brokers will not show listings with lower co-op not only can't be proven, but based on my experience, it's baseless," he said. "That's just ridiculous."
Part of the reason Degani and others in the industry feel this way is because they've seen first hand how technology has changed the relationship that consumers have with both agents and data. Degani noted that, with the many sources of listing information available to the public, it's hard to argue that brokers are able to direct consumers away from properties that are offering lower compensation. "Twenty years ago, when a client relied solely on the broker for information, this may have been an argument, though still baseless in my opinion," he said.
While Thad Wong, cofounder of @properties, agreed with Degani that the facts of the cases aren't very strong, he still sees them as significant threats to the industry. "I don't think that they'll prevail and I actually don't think the current setup is flawed," Wong said. "But I think they have merit; otherwise they would not have gotten this far."
How we got here
These suits have been hard to decipher partially due to the general confusion about how compensation has worked in real estate in the past, and how the idea of buyer agency has evolved. And that's why Jennifer Ames, team leader of Ames Group Chicago and license partner with Engel & Völkers, suggested a close look at history to understand the issue more clearly. "It used to be a very inefficient market where agents had to find buyers for their own listings and there was no central way to share information," she said, noting that the MLS was created specifically to standardize and disseminate listing data.
Ames noted that, for all the accusations of conspiracy and price setting being made in these lawsuits, it's really just a function of how real estate data sharing has evolved that's responsible for the way buy-side commissions are handled. "Since the MLS was formed, the total commission is paid to the seller's broker because they are the entity that is responsible for the marketing and sale of the listing. The seller's broker then offers a portion to the commission to the broker who is representing the buyer," she said. "There are no rules or requirements about how that commission is allocated. In our market, the listing broker could keep most and pay out less or pay it all out and keep nothing."
Indeed, Ames noted that part of the reason the industry has evolved to support more buyer's agents was to ensure better advocacy for consumers. Back when all agents — regardless of which side of the deal they were on — were considered sub-agents of the seller, consumer advocates became concerned about equal representation. "This led to lawsuits from buyers who expected their broker to be their advocate, and the rules of agency changed," she said. "Now in Illinois, all brokers who work with buyers are considered agents of the buyer so there is no confusion about where their fiduciary duty lies."
Do sellers really pay the buy-side commission?
One of the central arguments of these cases is that sellers are being forced to pay a commission that they cannot negotiate themselves. But Wong said even the notion that the sellers pay the buyer's agents isn't really accurate. Because the money to purchase a property is ultimately coming from buyers (or their bank), the argument could be made that buyers pay the seller's agent. "It only comes from how the deal is structured. The idea that the seller pays it is a little bit silly," he said. "It really is semantics."
Wong further argued that sellers understand that there are many related costs that have nothing to do with the value of a home — from property repairs to commissions to miscellaneous fees — that get factored into the listing at the pricing stage. The idea that these costs are paid by the seller is really just a way of streamlining them through one party. "Unless you're talking about taxes, it doesn't really matter who is paying," he said.
Joan M. LoCascio, managing broker and executive vice president for Fulton Grace, agreed that the origin of buyer's agents' commissions doesn't play a factor in the service agents provide their clients. "I don't believe a change in where commissions originate could ever impact the desire Fulton Grace agents have to help our clients achieve their goals," she said. "Whether compensation comes from buyer, seller or from both, informed consumers will continue to demand a high level of service and expertise from a very competitive and highly regulated industry."
What might happen
LoCascio was confident that, no matter what, these lawsuits do not have the power to undermine the fundamental position of real estate professionals in the transaction. "As a whole, the real estate industry is extremely resilient, and will respond positively to any potential changes resulting from class action lawsuits," she said.
Still, Degani noted that there's a lot at stake. "The MLS is one of the greatest American inventions. It is the only one of its kind in the world," he said. "Abolishing broker cooperation will send us back 50 years. All we have to do is see what happens in Europe where buyers pay their brokers. They have to go from listing broker to listing broker to get data, and often a listing agent collects commissions from buyers and sellers. That's not benefiting consumers."
Wong agreed that these suits represent an important moment not just for the real estate industry, but for consumers, and said a change to buy-side compensation could be disastrous to the housing market. "If it goes though, it's a big deal. It's going to involve everyone in the transaction," he said. He predicted that not only might buy-side commissions be cut in half, but also that sales prices will be significantly reduced. "You're going to see deflation; you're going to see home prices fall."
The importance of buyer representation
Degani worried about buyers who are currently struggling to come up with a down payment, needing to pay brokers' fees out of pocket. "Take for example an FHA buyer: That's a person that the federal government is helping realize the dream of home ownership with a 3.5 percent down payment. These are buyers who cannot afford paying a broker as well," he said. "They will either stay away from the process, or use a listing agent who has the seller's best interest at heart."
Wong said some real estate professionals who deal exclusively with high-end clients may be less concerned about the fallout from these lawsuits because the burden will fall chiefly on the lower end of the market. But he noted that if these lower-end buyers see their dollars unable to stretch as far in the marketplace, some won't be able to enter the market at all. This could create a cascading effect on the market, which has already been hampered by a lack of first-time buyers in recent years. "That's what a big deal this is," he said. "It will affect the majority of Americans and it will affect the majority of home values."
LoCascio's confidence in a positive resolution for these suits comes from her belief in the importance of buyer's representation. "Brokers provide the human connection to a real estate transaction. Buyer's agents are the grounding force and the voice guiding consumers through major investments and in most cases, the purchase of a lifetime," she said.
But Wong worried that if the suits do prevail, that relationship could be severed for many buyers. "There would be much fewer agents out there" willing to do buyer's representation for a lower fee, he said. "And that is a disservice to the consumer."