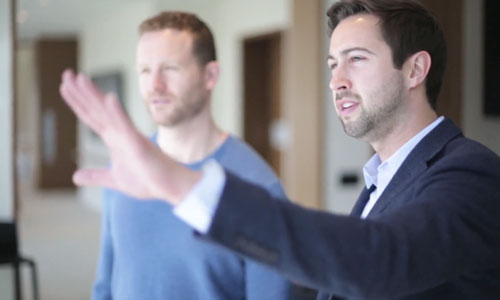 Luxury Living Chicago Realty, a high-end rental brokerage, is moving into sales.
The company's book of leasing business includes the 449-unit River City complex in the South Loop, one of the largest in a flurry of buildings recently deconverted from condo to rental.
But with demand for luxury rentals so high that it's leading to a partial reversal of the condo conversion craze of the 1990s and 2000s, it's worth asking: Is now a good time to get into high-end condo sales? The answer, according to Darrell Scott, who will head up the firm's new sales division, is a resounding "yes."
The transition to sales has actually been happening organically, without an official sales division, Scott said, noting that the company closed about $37 million in sales last year. Luxury Living Founder Aaron Galvin said their goal for 2019 will be to double that figure.
"It's sort of a natural transition to go into sales," Scott said. "A lot of our clients we've worked with in the past are people who can afford to buy million-dollar-and-up homes. And when they're ready to do so, we already have a relationship with them. So it's pretty seamless."
Seamless may be an apt word for the transition from renting luxury apartments to selling luxury condos. But of the 67 sales transactions the firm did last year, at least one stuck out: A detached single-family home in West Lincoln Park that sold for $1.3 million. It was one of at least two seven-figure deals Luxury Living can claim last year.
Scott explained that Luxury Living's typical client often isn't renting for lack of an option to buy. In many cases, he said, clients the firm leases to rent in up-market buildings simply because there's limited for-sale inventory that meets their criteria for amenities and location.
"Much of the condo stock throughout the city just doesn't measure up to what's available in some of the newer rentals around town, whether it's fitness facilities or top-of-the-line finishes inside the units," he said. "It comes down to newer properties 5 to 7 years old or ones that have been newly renovated. The inventory hasn't really caught up."
At least in the Downtown area, that may be starting to change, as a new crop of ultra-luxury condo projects begins to deliver. This week, One Bennett Park, a 70-story rental-condo hybrid in Streeterville, will have its grand opening. That's in addition to new high-end condos on their way in marquee developments like the 94-story Vista Tower, which is nearly topped off in the Lakeshore East neighborhood.
At this point, Scott said, the move into sales will continue to take place through organic growth and there are no plans to recruit sales-specific agents from outside of the company: "We expect to grow rapidly, and ultimately, it will depend on the market."