2018 brought many great changes and events for Fulton Grace. To celebrate our successful year of growth, we brought our agents and staff together for our annual Town Hall at Birch Road Cellar in Lincoln Park. We discussed the highlights of last year along with the many exciting things to come in 2019!
We celebrated our 10 Year Anniversary with a brand refresh, where we shed our original branding for a sharper approach.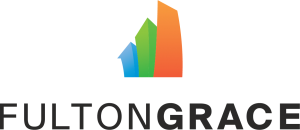 In addition to this fresh branding, we also launched our proprietary transaction management software, Office Troop.  This software has made all processes smoother for agents and staff so they can better assist clients with their needs.
Speaking of agents: we are so thankful for our hardworking top producers!
Top Producing Sales Agents
Owen Duffy

Jonathan Stein

Matt Engle

Henry Lazerow

Alex Kruser
Top Producing Sales Groups:
DG Advisors Group

Chicago's Property Shop

Lighthouse Real Estate Team
We are so fortunate to have such hardworking and dedicated agents as a part of Fulton Grace. We know their successes will continue to flourish this year.
Additionally, we had the honor of being named to Crain's Top 100 Best Places to Work in Chicago and made the Inc. 5000 List for America's fastest growing companies for the fourth consecutive year. These honors has brought talented and devoted agents and staff to us, and we are so thankful for their dedication.
Our founder, TJ Rubin, was named Managing Broker of the Year (51+ licensees) by the Chicago Association of Realtors. We know he will continue to shine in the Chicago real estate community as he strengthens and expands the impact of Fulton Grace.
Fulton Grace continued to grow, as we welcomed over 80 agents to our vibrant firm this past year. With unparalleled offerings and endless opportunities for Chicago's best brokers, we anticipate the expansion to progress rapidly.  As we say "farewell" to 2018, we're already gearing up for continued growth and excitement in 2019… so stay tuned for more updates to come!