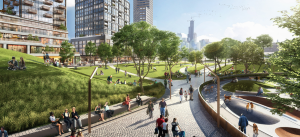 Sterling Bay's Lincoln Yards project just got one big step closer to becoming real. The Chicago Plan Commission unanimously approved the developer's proposal for the sprawling riverfront development between Bucktown and Lincoln Park.
The approval leaves few remaining hurdles in the path of the 55-acre, $6 billion project. It must now win approval from Chicago City Council's zoning committee as well as the finance committee. It will also have to get a stamp of approval from the Community Development Commission before going before the full city council.
The current plan for the site includes over 1 million square feet of office space, 74,000 square feet of retail space and around 6,000 new residential units. Several buildings that would dwarf the scale of the surrounding neighborhood are included in the plan, including one planned to rise to a height of about 650 feet.
Sterling Bay has faced criticism for allowing less than a week for community feedback on its changes since Ald. Brian Hopkins, whose 2nd Ward includes the entire site for Lincoln Yards, signed off on revisions last week. Those included nixing a planned entertainment district and soccer stadium following a community meeting on the project earlier this month.
A proposed tax-increment financing district that has not yet been approved would use property tax gains wrought by the massive development to effectively pay Sterling Bay back much of what it's investing in local public infrastructure like parks, a new bridge and the extension of the 606 bike trail.
The TIF arrangement, if approved, will require Sterling Bay to set aside 20 percent of the housing on the site as affordable. Sterling Bay will pay out $39 million to the city's low-income trust fund to help pay for affordable housing offsite; this allows them to have fewer affordable units onsite. The company will also contribute $92 million to the city's Neighborhood Opportunity Bonus Fund as compensation for being allowed to build at a density far greater than the neighborhoods flanking the riverfront site.