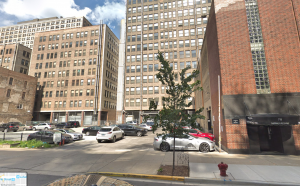 A 29-story apartment tower is planned for Printer's Row. Chicago-based developer CMK will develop the new building at 739 South Clark Street, on the site of what's been reported as the last printing plant in a neighborhood that once teemed with them.
The sale of the plant closed in December at a reported $14 million. Chicago's South Loop neighborhood has changed significantly over recent years as developers continue conversions of old buildings into high-rise apartment and condominium complexes. CMK has had a major presence in the area with its 3,600-unit residential project called Riverline in 2016 and its acquisition of a 32,400 square foot building at 1415 S. Wabash late last year.
A presentation given this week at a public town hall meeting announced the development plans for the printing plant site. A rendering of the 29-story tower complete with 349 units and 96 parking spaces was revealed by Chicago-based Hartshorne Plunkard Architecture. At the event, Fourth Ward Alderman Sophia King said the negotiations about the development's specifics are "still ongoing."
Chicago's McKinley Park neighborhood was ranked No. 1 on Redfin's, "10 Hottest Affordable Neighborhoods of 2019." The neighborhood has become a more affordable alternative for many Southsiders priced out of adjoining Pilsen and Bridgeport. With a median sale price of homes at $270,000 and an average sale-to-list price ratio at 97.9 percent, McKinley Park is, for many homebuyers, a more affordable way to stay close to conveniences like the Orange Line and the Stevenson Expressway, making commuting to Downtown Chicago easier. McKinley Park had 35.1 percent of  homes sell above list price last year, per Redfin. Other top neighborhoods ranked on the list include Philadelphia's East Mount Airy and Baltimore's Parkville.
Singapore firm Mapletree Investments has bought an apartment building in River North for $91 million from Chicago developer Fred Latsko and the Portland firm Gerding Edlen. Mapletree plans to convert the 25-story building at 220 West Illinois Street into corporate housing, with business travelers renting one of the 188 apartments for an extended stay. River North has seen a surge in its office market after a number of technology companies relocated there. Groupon's headquarters is in the neighborhood, and Salesforce recently announced it will be bringing about 1,000 high-paying tech jobs to the neighborhood in a new skyscraper at Wolf Point that's expected to be completed by 2023.
A historic Humboldt Park building is being demolished to make way for a six-story, 40-unit apartment complex planned by developer Wilmot Properties. The demolition permit was issued for the hundred-year-old building at 2932 W. North Avenue amidst opposition by local preservationists and residents. The complex will offer street-level retail space as well as underground parking spaces.