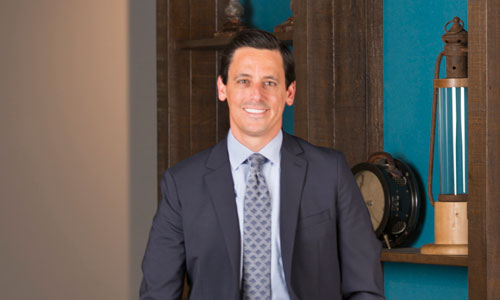 Veteran loan officer Anthony Marinaccio has left Key Mortgage for Guaranteed Rate, Chicago Agent magazine has learned.
Marinaccio started at Guaranteed Rate on Jan. 2 and will be working on a team with Dan Gjeldum, one of Guaranteed Rate's top Chicagoland producers. He closed just shy of $50 million in funded loans last year with Baird & Warner-owned Key Mortgage, earning him the title of top producer there in 2018, the same year he secured Loan Officer of the Year in Chicago Agent magazine's Agents' Choice Awards.
A central part of Marinaccio's decision to make the move was the technological platforms he'll be able to make use of at Guaranteed Rate. "What I used to have to go back to the office to do, I'll now be able to do completely on my phone," he said, noting that he expects younger borrowers to appreciate the technology he and they will have access to, and the speed at which it will allow loans to move from underwriting to closing. "It's going to save a lot of time, and allow me to focus on what's most important for my business and for my clients."
Officials at Guaranteed Rate are also excited about the move. "Anthony is perfect fit for our team here in Chicago. He's an unbelievably talented mortgage professional who has built up a terrific following of loyal clients and referral partners," Guaranteed Rate Division Sales Manager Jim Eboli said in a statement. "We look forward to helping Anthony leverage every bit of our platform, products and technology as he continues to grow his business at Guaranteed Rate."
Moving from his position as a major player at Key Mortgage, Marinaccio says he expects to exceed his previous high-water mark. He told Chicago Agent magazine that his aim is to close $100 million in deal volume in a single year by 2020.
But competition for the coveted top producer title is more challenging at Guaranteed Rate. The Chicago-based firm's top producer in 2018 was Shant Banosian, who closed over $500 million in loans last year working out of Guaranteed Rate's Boston office. According to Scotsman Guide, a frequent top producer in the company's Chicagoland operations is Ben Cohen, who closed over $271 million in loans in 2017, and more than $337 million in 2016.