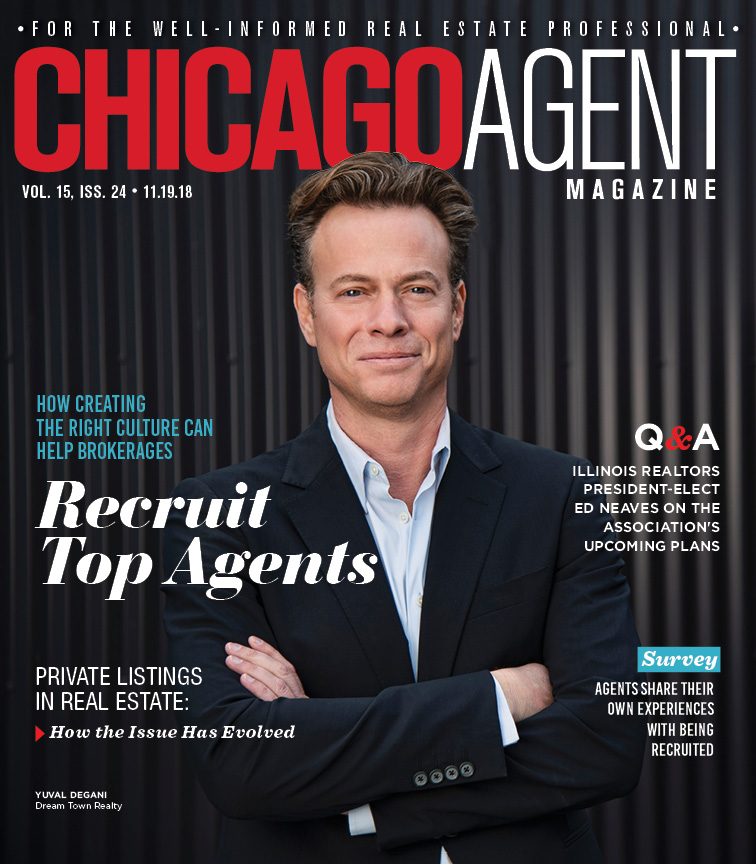 With new and expanding brokerages continuing to fight for market share, coupled with a lack of inventory throughout Chicagoland, there are several challenges facing the industry as it enters 2019. Brokerages are in competition to attract and recruit agents who will represent their brand well while achieving higher sales and developing client relationships. By utilizing their existing relationships and emphasizing the valuable services they offer, they can position their brokerage as the best place for an agent to advance their career.
Attractive benefits and offerings
Agents are drawn to brokerages for numerous reasons: managing brokers, technology, training, a supportive culture and name recognition are among the biggest draws, both for newer agents and those who have been in the business for a while. They may be attracted by tools that can help them increase their business and educational opportunities that enable them to improve their skills.
At Dream Town Realty, founder Yuval Degani emphasizes a holistic approach to the real estate industry and asks prospective agents where they want to go in life, rather than what sales numbers they want to achieve or how much money they want to make. Depending on their business and life goals, he can use their response to help them map out a way to get there.
"We want to be sure we can serve somebody and help them get to where they want to be," Degani says. "That's our mission, and that's really how we determine the fit. We give them the culture, we give them the benefits and we ask the question, 'Is this somebody who's going to be giving some positive energy on a daily basis?'"
Bernadette Kettwig of Coldwell Banker highlights the four core values that are central to her company's business during her discussions with agents who are interested in joining. By clearly communicating Coldwell Banker's commitment to helping agents grow through ongoing coaching, financial strategies, a supportive culture and efficient workplace practices, she demonstrates the many ways the company can help them succeed.
"Our mantra is to help agents live exceptional lives," Kettwig says. "I think there's a lot there that attracts them to the brand and to the brokerage."
Catherine Leonard, a managing broker at Baird & Warner, says agents are drawn to her company's training and support options, culture and tech.
"There are the very few people who might say 'I don't want or need any support, I just want a 100 percent split; I don't want anybody to bother me; I don't want to have to attend anything,' and I can say to them, 'That's not the product that we offer,'" Leonard says. "Honesty compels me to say that they would be better served somewhere else. Ninety-nine percent of the people I talk to, whether they're new or they're experienced, are looking for a wonderful culture or a different culture from what they've been. If they're new to the industry, they're looking for deep training. If they're not new, they're looking for support that they have not found elsewhere."
---
Also in this issue
MLS, brokerages evolve their stance on private listings
Illinois Realtors president-elect Ed Neaves sees opportunity in a time of transition
Survey: Agents share their thoughts on recruiting efforts
---
A great culture fit
The competitive nature of the real estate market in Chicago requires managing brokers to find ways to differentiate themselves from each other. Brokerages work to demonstrate ways in which they differ from competitors so that they can attract the best agents available.
"I ask them what they're looking for in a company," Leonard says. "'Where do you want to spend your time?' 'What are you looking for an agency?' and they'll say, 'I'm looking for training or I'm looking for a culture I be comfortable with.' I know that we win on those two counts. We do that differently and better than anybody, and I can say it with honesty. I'm not feeding them a line when I say that."
Degani says that his firm's culture of support, its coaching and education opportunities, and its technology offerings are the top reasons agents want to join. The company was an early adapter of CRM software that helps manage aspects of the business such as client retention, lead generation and financial information.
"People know that we have their best interests in mind," Degani says. "We work very hard in terms of helping people grow their business and grow as people. We take a holistic approach to real estate."
Kettwig looks for agents who are willing to be wholly committed to the business and to reaching their maximum potential. "Coldwell Banker is a full-service brokerage, so we're looking for brokers who are fully committed to building a successful career in real estate," Kettwig says. "I focus my conversations on their business planning and goal setting, and on how they plan to achieve maximum growth and maximum success to make sure that they are personally fully committed to setting and achieving those goals."
Finding your next agent
Providing an excellent workplace culture, top-level support and technology can often convince agents that a brokerage is right for them. First, however, those potential new hires have to be engaged.
Degani avoids methods such as networking and cold-calling potential recruits. Most of the time, his new hires come to him through agent referrals.
"It's like every company has an ongoing dialing for dollars program, where somebody's sitting and pounding the phone, trying make contacts," Degani says. "Our approach is markedly different. We really grow by attraction. Most commonly, somebody in the organization says, 'You know, there's somebody who'd really be a great fit for us.' That's how we initiate contact. We give them a call, or sometimes the broker will make the introduction. It's very rare that it's just a phone call. That's not us."
Leonard uses a diverse strategy for making connections with potential recruits, and likes to add a personal touch when she's reaching out. The more traditional methods include visiting agents at open houses and making calls.
"I try to be a little more personal about it," she says. "I have had great success using handwritten notes to people, and I've gotten a great response from those. The growth our office has experienced is driving agents to us."
Kettwig's recruitment efforts include making close connections within her own company and then using that internal network to find agents. A company-wide referral rewards program encourages her agents to help make connections.
"Coldwell Banker has one of the most generous referral rewards programs in the business," Kettwig says. "We incentivize our existing brokers to help us organically grow the office by rewarding their connections and relationships with other great brokers in the industry. So I really work to cultivate great relationships internally, which in turn creates additional opportunities to bring other great brokers from competing firms in to meet with me."
Delivering the message
Managing brokers have to be prepared to deliver the message that their company is the right place for those agents to find what they need and grow.
Degani recommends that managing brokers be clear in what they're offering and how they can help agents when they're trying to recruit.
"Have clarity as to what you're offering to people to improve their lives," he says. "That's where it's at. Offer people something that will truly have an impact on their lives through all the ways you serve them. That's your strategy."
Even after they've heard about everything that a brokerage can offer, agents might be reluctant to make the leap. Leonard tries to ease some of that anxiety with data pointing to the successes her other recruits have enjoyed.
"Human nature makes people afraid of change," she says. "They think it's going to be difficult and they think their business will dip if they move. In fact, I can prove that agents I have recruited have all increased their business. Overcoming that sense that it's going to be disruptive as opposed to productive to switch, that's tricky. That's human nature."
"I think it's critical to understand what's important to each individual as it relates to their business," Kettwig says. "And to be able to show our unique value proposition, and how that will benefit them and support their personal growth and goals."