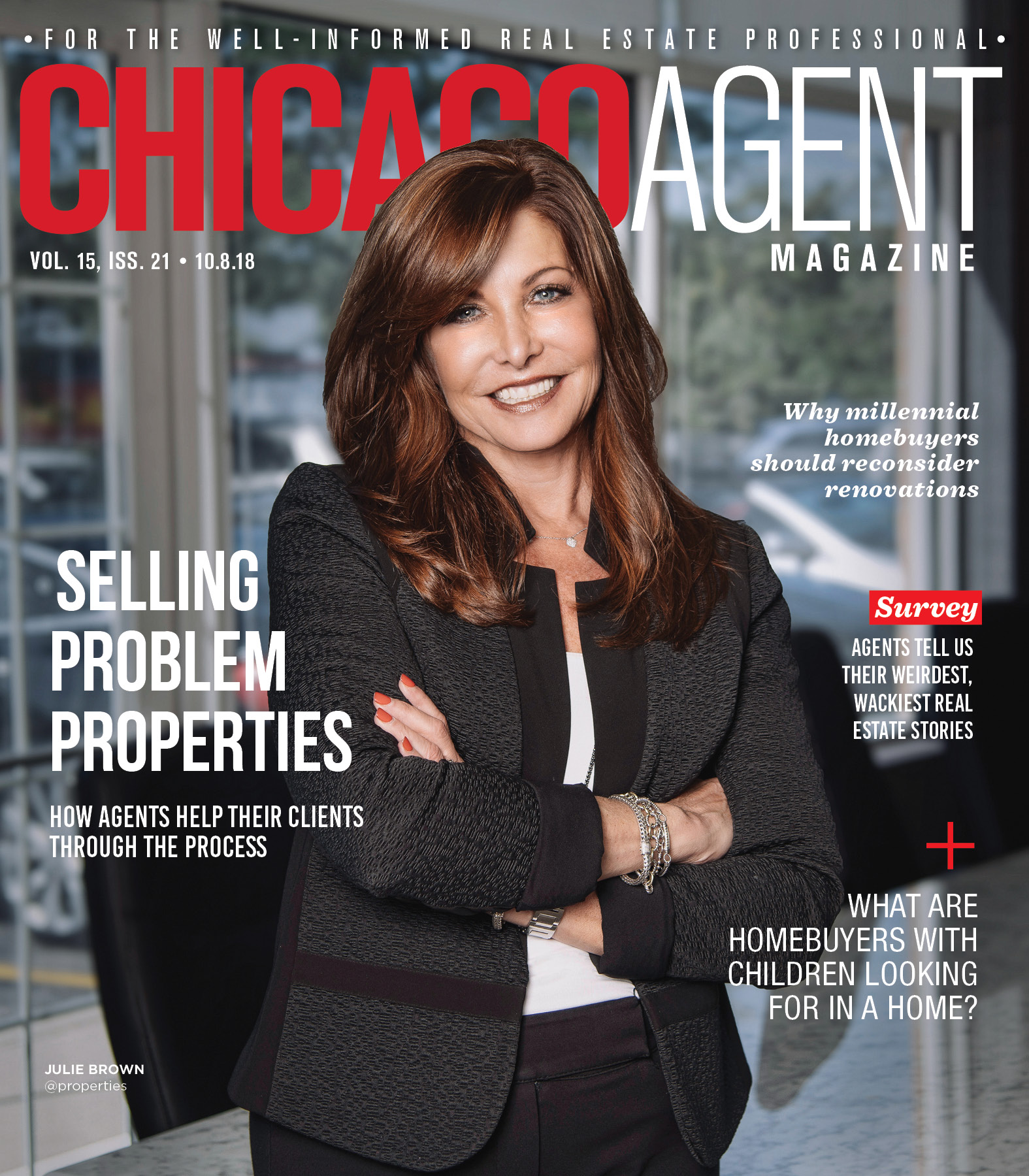 There is a buyer for every home. With some properties, it takes a little longer to find the right person who can see the potential in a residence that others have rejected.
Many agents have stories about properties that simply wouldn't sell. Perhaps the neighborhood had cooled off, or the asking price was too high. Problematic neighbors or an association's onerous rules might have sent potential buyers to other possibilities. Or perhaps the problem was the home itself. Factors like unusual layouts or dated fixtures can deter potential buyers, even in hot neighborhoods.
Cadey O'Leary of the Cadey O'Leary Collection with Jameson Sotheby's International Realty sees location, price and property type as the three primary factors in a home being difficult to sell.
"You can't really change a location, so location can make a problem for a property more challenging when certain neighborhoods are cooling and other neighborhoods are a lot hotter," O'Leary says.  "Take North Center versus the West Loop as an example of that type of thing. Logan Square and Avondale — those are hotter markets than perhaps the South Loop, which never had that resurgence when the market came back to the same level that the neighborhood had previously experienced."
Julie Brown of @properties has encountered difficulties with condo boards and their bylaws that have made the home ownership process difficult for her clients. One of Brown's clients had a particularly frustrating experience. The documents for her home said residents could conduct business in their unit as long as the number of customers was reasonable. The buyer had only a few tutoring students each week, but the board fined her anyway — so she turned to Brown for a solution.
"She went before the board numerous times," Brown says. "We had an attorney talk to the association to see if they could find some way to not make these rules more case by case. She ended up not being able to work from her home at all and she ended up renting office space somewhere."
Honesty and openness
It can take a deft touch to work with homeowners who are experiencing difficulties. Whether they're aware of their home's issues at the onset or situations come to light at some point during the staging process, they may need help in processing the fact that more work is needed before they can find a buyer.
Adele Lang of Baird & Warner focuses on managing expectations from the start. Doing so helps to gain her clients' trust, which is crucial for handling problem properties. This direct approach helps to get issues that need to be addressed out of the way early on.
"Managing expectations, bringing up potential issues and how we can address these issues when they come up, is important," she says. It's always the best way, because it's not like they have these high hopes of selling and suddenly they receive feedback through me from any buyer that they did not expect."
O'Leary likes to know about potential problems well in advance, particularly if they're cosmetic matters that can be corrected given enough time.
"Most of the time I strongly strongly urge my clients to make improvements before they go to market, and it's best if we're talking well in advance so they have something like the cherry cabinets or the red tint to the oak floors," O'Leary says. "Just go ahead and make some improvements so that the photographs are the first showing of your property. It's more eyeballs online on mobile devices and people are taking a look and liking what they see. You really discourage a lot of potential buyers who can't get beyond cosmetic improvements and that's where we are in this market right now."
Brown also favors a direct approach with her clients so that she can get ahead of whatever problems she and her sellers might encounter.
"When I meet with somebody, if there are any issues that they think there might be a problem with or if they've heard something or there are rumors within the building or the complex or the association, we always try to go in and verify whether or not there are those issues or stigmas," Brown says. "So we know in advance if we're going to have a problem, whatever it may be. Was it a problem when you purchased and how do we work around it legally?"
---
Also in this issue
Survey: Agents share their strangest real estate stories
To sell problem properties, focus on the positives
---
Solving problems
Some problems with properties require more work than others. Another unit Brown has worked with recently is held by a trust. Multiple showings have taken place and an offer was even submitted, but was ultimately retracted. According to Brown, two people who viewed the unit, including the one who made the offer, felt that the floors were sloping.
Brown has made multiple attempts to convince the condo board to have an inspector look at the entire building to no avail.
"This particular unit is in a trust and the trustee and I have spoken on numerous occasions," Brown says. "We're going to talk to their attorney who is going to handle the sale to see if he can somehow get involved and see if there's something that we can do to get somebody in there, even if it has to be at the sellers expense, to disclose if there's a problem. If there is a problem we need to fix it. It needs to be addressed."
Lang recently sold a home in a Gold Coast condominium in which a former owner had sued the condo board, the latest of many legal issues involving the building. The judge presiding over the case ultimately deemed the owner's claims frivolous, but not before the lawsuit became public.
"As an agent, you're often going to be very limited as to what you can say to guide people on particular issues," Lang says. "Though it may seem counterintuitive to share what you might not want to be known, it's important to frontload with what other information you have with the client and present it to them in a way so they know they're taken care of."
Lang took great pains to ensure that her clients were not deterred in purchasing the home: "Anything that causes controversy might seem bad, but I can handle those delicate situations. Whenever I have potential buyers, I allow them to ask whatever questions they have. We ended up holding their escrow funds for a time in case there was a negative verdict. I have relationships with an attorney and a mortgage professional who can help provide guidance on legal and financial issues." Lang suggests practical solutions to daunting problems, keeping her sellers informed so that they can feel confident that they're the ones making the decisions and are not simply following her lead.
"In a word, it's the easiest thing to do from the very start," Lang says. "We talk about those problems, but I also offer solutions to each one of those problems that might come up in the future. We try to address them from the start and not have it be a surprise later on."
Maintaining confidence
Clients who already know that their homes have problems may not be optimistic from the start. For those who don't realize their property has issue, such revelations can be disheartening. Part of the agent's job becomes keeping their spirits up throughout the process. Maintaining direct lines of communication and keeping them informed of developments is also part of the process, even if that means serving as their sounding board as they express their frustration.
"They're going to get discouraged, but you can be honest with them and at least they can express themselves," O'Leary says. "We wear a lot of different hats. It's part therapist, part salesperson and the like. Sometimes part of our job is to hear our clients complain and bemoan the situation."
Lang makes constant contact a main means of keeping her clients' spirits up.
"Unwavering support is part of an agent's job, in my opinion," Lang says. "It's part of the package as far as what they have to offer. I feel like it's always my duty to point out the light at the end of the tunnel and allow them their time to break down and feel uncomfortable. You must always offer that light at the end of the tunnel. To do that, I touch base regularly. The more problems you have with a property, the more regularly I would like to touch base. It's always a question of 'these are the showings we've had, and these are the responses. This is what I suggest we do.'"
Brown believes that recognizing that problematic properties take time to sell and that patience will often be rewarded can keep agents and clients confident.
"You have to take the time to investigate and tell them nothing is impossible," Brown says. "Some things are harder than others, but you should be able to reach out and find resources to help you or figure out a way to get to the bottom of what you need to get. It's constant communication and just telling them that you're there for them. You're not just there to help them make a sale. You're there to help them through the entire process, whatever comes up."