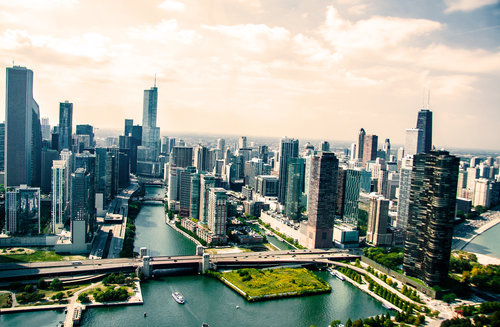 The metropolitan Chicago housing market is split into two different types of markets during the month of August, according to an analysis by the RE/MAX Northern Illinois Region.
The number of homes selling for less than $500,000 totaled 9,953 — a 2.6 percent decline from August of last year. At the same time, homes selling for more than $500,000 totaled 1,468 — a 4.4 percent increase.
Jeff LaGrange, vice president of the RE/MAX Northern Illinois Region, said Chicagoans and other potential homebuyers are seeking entry-level and moderately priced homes. "Demand for entry-level and moderately priced homes is strong and sales being inhibited primarily by a lack of inventory," LaGrange said.
On the other hand, LaGrange said for more expensive housing, there is enough inventory that many homes are being overlooked. "In the upper brackets, there is ample inventory and many homes struggle to find buyers," he said.
According to the analysis, the inventory of homes priced under $500,000 was 26,405 units, a 2.6-month supply. The average market time in August for homes priced in that range was 57 days.
In contrast, homes priced at $500,000 or more had a 6.9-month supply of homes available with the average market time in August at 102 days.
More information from last month's report:
Home prices rose moderately in all categories across the seven-county metro Chicago market.
The median sales prices for all homes sold in August was $245,000, an increase of 2.1 percent over the same month last year.
The average market times for homes sold in August for Cook and Lake counties were 65 and 82 days respectively. For DuPage, Kane, Kendall, McHenry and Will was less than 60 days, with Kendall having the lowest of 41 days.
Sale activity in August increased in three countries, with Kendall county rising to 9.1. percent increase, 2.9 percent for Lake, and 0.7 percent for Cook.
Sales were down by 6.5 percent in DuPage, 4.3 percent in Kane, 1.6 percent in McHenry and 3.3 percent in Will. In Chicago, sales decreased by 2.4 percent.
METRO CHICAGO REAL ESTATE MARKET HOME SALES
AUGUST 2018 VS. AUGUST 2017
 
Total Sales
% Change
Detached Sales
% Change
Attached Sales
% Change
Metro Chicago
11,421
-0.7%
7,280
-0.2%
4,141
-1.7%
Cook
6,216
0.7%
3,466
4.9%
2,750
-4.1%
DuPage
1,413
-6.5%
908
-6.5%
505
-6.5%
Kane
758
-4.3%
575
-8.0%
183
9.6%
Kendall
265
9.1%
188
5.6%
77
18.5%
Lake
1,081
2.9%
825
-1.3%
256
19.1%
McHenry
570
-1.6%
463
-0.4%
107
-6.1%
Will
1,118
-3.3%
855
-6.2%
263
7.8%
Chicago
2,676
-2.4%
1,084
4.4%
1,592
-6.5%