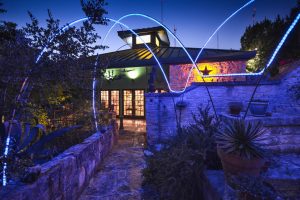 Home in a jungle paradise
If you're searching for a quaint, isolated home surrounded by nature and lush foliage, try the Las Casitas House & Garden in the Westlake community of Austin, Texas. Listed at $3.5 million, the home features its own urban jungle with koi ponds, gardens, sculptures and even a 90,000-
gallon pool. This space is lined with aquatic lighting, giving it an almost ethereal presence after the sun goes down.
A world of wizarding
Need a strong line of defense against the Dark Arts? Look no further than this Minneapolis brick "urban castle" straight out of Harry Potter. Housing a copper-laced tower, the 4,547-square-foot English castle-styled home includes a handcrafted metal staircase, rooftop terrace and charming outdoor courtyard. This magical adobe is the perfect place to master your Expecto Patronum spell and enjoy a pint of butterbeer with your muggle friends.