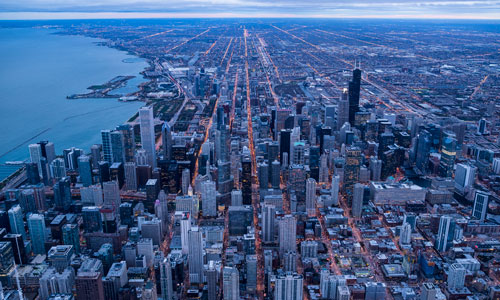 Despite recent reports of a population slowdown in Chicago, Chicago ranked second on U-Haul's U.S. Destination City list.
The list is drafted from U-Haul's migration trends report. The rankings are based on the amount of one-way arrivals of U-Haul trucks in a city throughout the previous calendar year.
According to U-Haul, "Destination Cities reflect the volume and regularity of do-it-yourself movers coming into a community. They do not account for departing one-way U-Haul trucks, and thus do not necessarily signify growth like U-Haul Growth Cities and Growth States rankings."
Even though Chicago's population dropped for the third consecutive year, in 2017, Chicago saw an 11 percent year-over-year increase in the the amount of one-way U-Haul truck arrivals. U-Haul has 17 company-owned stores and 89 independent neighborhood dealerships around Chicago.
Chicago is currently the third most populated city in the U.S., with 2.7 million residents, according to the Chicago Tribune.
"People moving here are looking for an exciting city with family-friendly fun. We have some of the largest festivals in the U.S., and our beaches go for miles. With all of the buildings being refurbished downtown, the city is growing again. U-Haul is eager to make it easy for do-it-yourself movers to transition to Chicago," said U-Haul Company of North Shore Chicago President Rick Rottweiler.
Top Ten U.S. Destination Cities
Houston

Chicago

Orlando

Brooklyn

San Antonio

Las Vegas

Austin

Philadelphia

Charlotte

Columbus