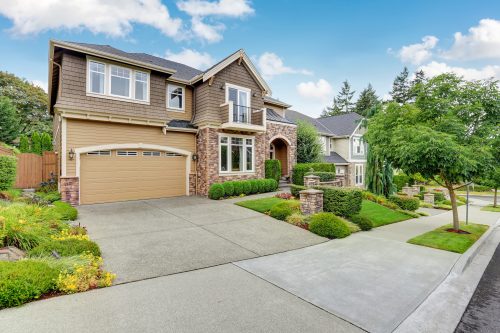 Continued tight inventory in January contributed to an increase in home prices and a decrease in statewide home sales compared to last year's figures, according to the latest report from Illinois Realtors.
In January 2018, total home sales, comprised of single-family homes and condominiums, reached 8,156, a 6.1 percent decline from 8,683 in January 2017. At $185,000 the statewide median price in January 2018 rose 8.2 percent from the previous January's $171,000 median price.
"January homebuyers faced a daunting combination of dwindling inventories and severe winter weather," says Matt Difanis, president of Illinois Realtors. "Those buyers who were successful in finding a home had to move quickly to make an offer and were definitely willing to pay more."
It took an average of 65 days to sell a home in January 2018, a dip from the 69-day average in January 2017. Available housing inventory fell 12 percent from 51,978 homes on the market in January 2017 to 45,726 homes in January 2018.
Sales of single-family and condominiums in the Chicago Primary Metropolitan Statistical Area (PMSA) reached 5,777 in January 2018, down 8 percent from 6,277 in January 2017. The median price in the Chicago PMSA increased 7.2 percent from $209,000 in January 2017 to $224,000 in January 2018.
Thirty-two Illinois counties reported sales gains for January 2018 over last year. Notably, sales in Peoria County were up 20 percent to 144 units sold; Madison County was up 17.8 percent to 212 units sold; and Sangamon County was up 6.7 percent to 143 units sold. Year-over-year median price increases were reflected in 50 counties. Of these, Will County was up 13.5 percent to $210,000; Cook County up 7.1 percent to $225,000; and Champaign County up 1.8 percent to $141,000.
In the city of Chicago, year-over-year home sales fell 10.2 percent last month to 1,414 from January 2017, when 1,574 homes were sold. The median price of Chicago home rose 3.9 percent in January to $265,000 from $255,000 at the same time last year.
"Based on the present trends in the housing market, we anticipate a competitive spring for buyers," says Rebecca Thomson, president of the Chicago Association of Realtors. "With decreasing market time, sellers will need to be mindful of pricing strategically. If their home is not moving quickly, a proactive price adjustment may help them protect their overall investment without risking the stigma of a longer-than-average market time. With how quickly inventory is moving, an overpriced listing could get left behind."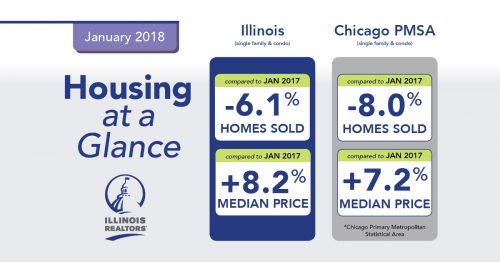 North Shore, Barrington follow suit
In the North Shore and Barrington area, the median sales price and average listing price both increased in January 2018 from the previous January. The average sales price jumped 17.6 percent to $621,224 last month from $528,320 in January 2017, according to the North Shore-Barrington Association of Realtors.
Association data shows that the number of closed sales dropped 4.2 percent from 403 in January 2017 to 386 in January 2018. The number of homes under contract — contingent and pending — also fell 9.3 percent to 460 homes last month from 507 in January 2017. Compared to a year ago, new listings remained flat at 1,079.
In January 2018, the median sales price increased 4.9 percent to $425,000 from $405,000 in January 2017.
North Shore and Barrington home inventory decreased 11.4 percent to 2,779 units in January 2018 from 3,135 at the same time last year. The months' supply of homes for sale dropped to 4.3 months from 5 months last year.