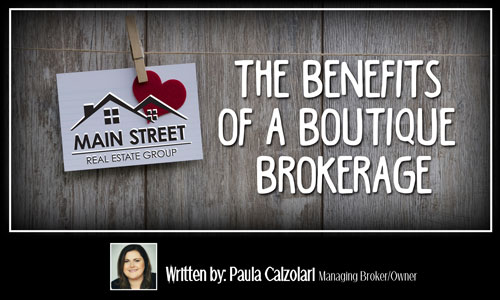 THE BENEFITS OF WORKING FOR A BOUTIQUE BROKERAGE
MORE INDIVIDUAL ATTENTION
Many times in larger companies, agents feel lost in the crowd. A boutique brokerage offers more individualized attention and more accessibility to coaching, training and advice. For example, if you have a question about working with an investor, you don't have to wait until the company training in 2-3 weeks. Instead, you can meet with your managing broker or coach to learn the necessary information and skills to meet your client's needs.
TEAMWORK
Boutique agencies offer a more cooperative environment. Agents work together and share their successes and experiences. The atmosphere is more helpful and encouraging. Everyone is invested in each other's successes.
MORE OPPORTUNITIES
Boutique brokerages allow agents to market all their listings. Whether it is via social media or an open house, this gives agents opportunities to find buyers as clients.
MORE CREATIVE CONTROL WITH MARKETING
While every brokerage has guidelines for advertising and marketing, rules at boutique agencies are typically less strict. This means that agents have more creative control over their own brand. Agents are able to co-brand their name with the brokerage in order to stand out and increase their name recognition.
MORE FLEXIBILITY
Since there is no corporate office or franchise affiliation to answer to, boutique firms can make big decisions that affect agents quickly and easily. Policies, services and training could be changed efficiently to benefit agents.
LESS EXPENSIVE
Agents don't pay hefty desk fees or franchise fees. Commissions are competitive and agents can keep more money in their pocket.
If you're interested in learning more about working at a boutique brokerage, please go to careersatmainstreet.com or contact Paula Calzolari, Managing Broker/Owner at Main Street Real Estate Group at 312-968-9335 or paula@mainstreetreg.com.