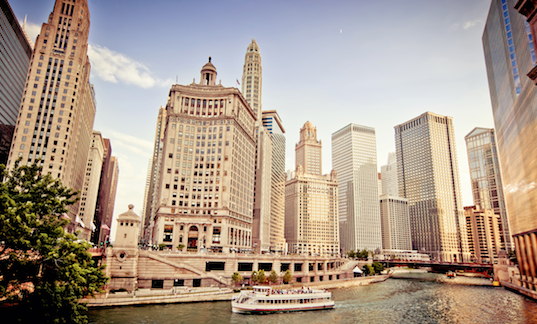 Chicago ranked at No. 7 among the most sustainable cities in North America, according to Arcadis' recently-released Sustainable Cities Mobility Index.
To measure the sustainability of 100 cities across the world, the SCMI looks at three factors in each city: how mobility systems affect people, environmental impacts like pollution and emissions, and how efficiently a mobility system can jumpstart a city's economic growth. 
"The Chicago Transit Authority has received funding to modernize sections of the city's commuter rail and looks to technology to improve the passenger experience, such as digital displays, upgraded security systems and 4G wireless services," the report said.
"Cities and their policymakers face enormous pressures as they seek to meet today's mobility challenges," said John Batten, Global Cities Director at Arcadis. "As rapid urbanization, aging infrastructure, population growth and climate change continue to challenge our world's cities, those that choose to make bold moves in advancing and diversifying their urban transport systems will gain a competitive edge."
In general, North American cities ranked low in sustainability compared to their European and Asian counterparts, mostly due to a nationwide preference of private car transportation. The SCMI encourages cities in the Western Hemisphere to place more emphasis on public transit and alternative modes of transportation, while also encouraging ridership.