April recorded the fastest ever time that homes for sale went under contract, just a month removed from setting the previous record, according to the National Association of Realtors.
Homes for sale in April were typically on the market for just 29 days, the shortest time on market since NAR began tracking the statistic in 2011. That's actually a significant change from March, when homes remained on the market for 34 days, which set the record before it was beat this month.
Strong demand for homes has been met with historically low supply, causing bidding wars for homes and increasingly fast sales times. Rising home prices have also been attributed to this year's tight inventory.
Tight inventory has been a recent phenomenon, but days on market figure has been falling steadily since 2011, when properties were typically on the market for 97 days, according to NAR.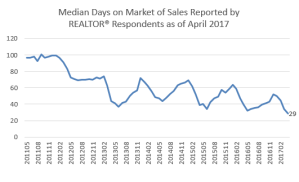 Nationally, 52 percent of properties that sold in April 2017 were on the market for less than a month, compared to 48 percent in March and 45 percent in April 2016. Only 10 percent of properties were on the market for six months or longer.
Clearly, days on the market varies from state to state. Check out NAR's breakdown of days on the market by state below: