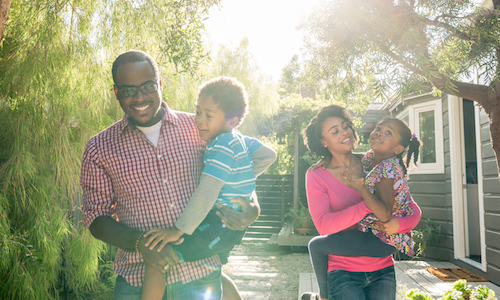 Housing segregation is a problem in every major U.S. city, including Chicago. How members of the real estate community, and particularly members of the Black real estate community in Chicago, can address that problem was front and center at a town hall-style meeting held today at Malcolm X College, where Tracey Taylor, president of the Dearborn Realtist Board (DRB), alongside State Representative La Shawn Ford and other prominent members of the Black real estate community, including the newly elected president-elect of the DRB, Courtney Jones, presented and took questions on the findings of the National Association of Real Estate Brokers' 2016 State of Housing in Black America (SHIBA) report.
In his opening remarks, Taylor explained that while the National Association of Realtors is aware of the problems facing Black America, its agenda is broad and doesn't adequately address the specific needs of the Black community. And so he urged involvement and proactivity.
"No one's going to do it except us," Taylor said.
When it was Rep. Ford's turn to speak, his messaging was similar, but more blunt.
"Banks still treat blacks unfairly," Ford said, referring to the findings in the SHIBA report that showed Black communities are still struggling to get fair treatment and basic services, like access to credit. "This report tells the story of Black America, Black Illinois and the black people of Chicago."
So what does the report say?
The details of SHIBA
SHIBA confirmed that Black men and women make significantly less than white men and women. It confirmed that the unemployment rate for Blacks workers is double that of White workers. It confirmed that the homeownership rate among Blacks is lower today than it was during the Great Depression. It confirmed that since the early 2000s, the number of Black applicants for conventional mortgage loans has plummeted (down 82 percent between 2004 and 2014) while applications for nonconventional loans have skyrocketed (accounting for 19 percent of all Black loan applicants in 2004 to 68 percent in 2014).
DRB President-elect Courtney Jones summed the report up saying that it gives "proof" to what he and others working in the industry have always known: "The system has failed and Black communities have been left to shoulder the burdens."
But the town hall wasn't simply a platform to examine the details of SHIBA. It was also a forum for planning.
The efforts being made, and that need to be made
Taylor spoke to the approach DRB and NAREB have been and hope to continue taking to address the housing problems facing Black America. For instance, he said that DRB is lobbying at the national level to help pass policies that target predatory lending, advocate for the use of alternative credit scoring, help create more affordable housing, and focus on not just increasing but sustaining Black homeownership. DRB is also dedicated to establishing strategic partnership with other associations, institutions and governments, which can then leverage to help build better neighborhoods and create jobs.
However, speaking to a more fundamental level, Jones urged that before anything else there needs to be unity.
"We need collectivism," Jones said, adding that the more voices speaking out, the more that can be accomplished.