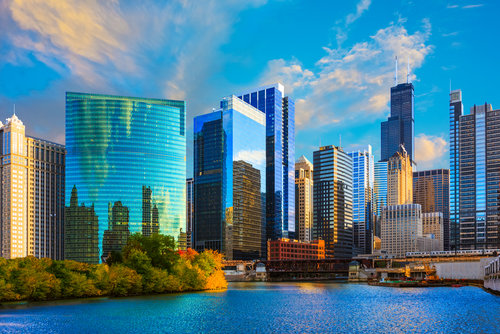 How did the Chicagoland housing market fare in 2016? Did the market grow, or contract? Did sales rise, or fall? Is inventory still a problem?
To find out the answers to those questions and more, we consulted the latest numbers from IAR, and pulled out the five most relevant stats:
1. Ending on a Down Note? – December's housing market was not a very positive one for Chicagoland, with home sales falling 3.6 percent year-over-year to 8,132. Year-to-date sales were still positive, with the 2016 market rising 4.3 percent over 2015, but Geoffrey J.D. Hewings, director of the Regional Economics Applications Laboratory at the University of Illinois, said consumers are taking a wait-and-see approach.
"Consumers appear to be waiting to see what the new President and Congress plan for the economy," Hewings said. "As a result, it may be several months before there is an appreciable impact on the housing market. Prices and sales are expected to continue experiencing modest gains over the first quarter."
2. A Strong Valuation – Median price, meanwhile, continues to rise. For December, prices rose 8.3 percent from last year to $215,000, while year-end prices were up 6.0 percent to $222,500.
The increase in prices is undoubtedly a good thing for sellers, but as ATTOM Data Solutions showed in its quarterly Home Affordability Index, wages are not growing at nearly the same rate as prices – and that trend has put many homebuyers at a distinct disadvantage.
3. The Urban/Suburban Split – In the city of Chicago, home sales were down 7.0 percent year-over-year in December, while year-end home sales rose 1.9 percent over 2015. Price growth remained strong, with median price rising 8.3 percent yearly and 4.2 percent year-to-date, ultimately closing 2016 at $272,000.
Out in the suburbs, sales also declined, though the fall was not as sharp. According to MORe, sales of single-family detached homes declined 3.2 percent year-over-year, and were up for the year by 4.6 percent. Median price for 2016 was up 6.2 percent to $240,000.
4. Geographic Variety – Per IAR's report, sales and prices differed at the county level. In Lake County, for instance, December sales were up 6.3 percent, while in Cook County, prices rose 8.2 percent to $216,350.
And according to MORe, some suburbs saw pronounced sales increases, including: Oak Lawn ( up 17 percent); Orland Park (13.4 percent); Willowbrook (27.5 percent); Palatine (13.8 percent) and Green Oaks-Libertyville (16.4%).
5. The Inventory Carousel – The past year has been a low-inventory wonderland for the Chicago area, and December offered no relief. For the city of Chicago, inventory was down 12.7 percent, while in the whole area, inventory dropped nearly 20 percent. Catherine Terpstra, the president of the MORe board of directors, said the low inventory is having an impact on the marketplace.
"Lack of inventory is driving time on the market down and median sale price up," Terpstra said. "Winter buyers don't always have the luxury of time or big inventory to wait for the perfect home."