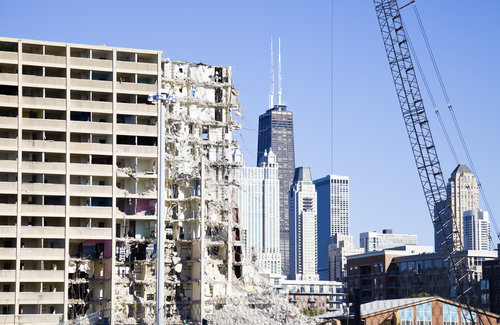 Did you see this week's top real estate news? Notable stories included a report on "zombie" foreclosures, as well as new zoning and density allowances for new construction.
If you missed any of these, catch up with our real estate news roundup:
•Primary Mortgage Market Survey – Mortgage rates remain near 2016 lows, according to the latest Freddie Mac analysis.
•Lingering Foreclosure Inventory – "Zombie" foreclosures remain high in Chicago and Illinois, but a new RealtyTrac report finds the situation is improving. Read the complete report in Realtor Magazine.
•Demolition of  Hospital Delayed by City of Chicago – The demolition of the old Children's Memorial Hospital site in Lincoln Park has been delayed until June 7, Curbed Chicago reports.
•New Zoning and Density Allowances – The Chicago City Council has approved an initiative that, according to Mayor Emanuel, will allow for new development and neighborhood revitalization. Curbed Chicago has the full report on their website.
•Rock Stars Pay High Property Taxes – Who pays the highest property taxes in Lake County? Here's a hint – he loves to smash pumpkins. Get more details at ChicagoBusiness.com.
•Zimmerman Named as NAR Commercial Liaison for 2017 – Deena Zimmerman, a broker and vice president with SVN Chicago Commercial, was named NAR's 2017 commercial liaison at the Midyear Legislative Meetings & Trade Show. Check out the press release on the Illinois Realtors' blog.