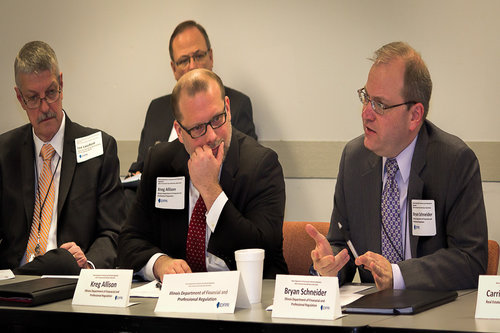 The Illinois Department of Financial and Professional Regulation (IDFPR) hosted its first "Turnaround Town Hall" on Feb. 24 at the James R. Thompson Center in order to discuss real estate related professions regulated by the IDFPR's Division of Real Estate (DRE).
In attendance at the meeting were IDFPR Secretary Bryan Schneider and DRE Acting Director Kreg Allison. Approximately 30 professionals representing more than 10 real estate industry organizations participated in the town hall.
Schneider and Allison led conversations on regulatory rules, legislation fees, testing services and education.
"We see this Town Hall meeting as a spring board for future discussions within the permissible guidelines to serve as a resource and a partner with IDFPR," said Mike Drews, president of the Illinois Association of Realtors.
"Engaged licensees are invaluable for the task of transforming how an industry is regulated," Allison said, thanking the participants for their engaging conversations, excellent feedback and strong commitment to the future.
"The town hall for real estate was just the beginning of many more conversations to come," Schneider said.