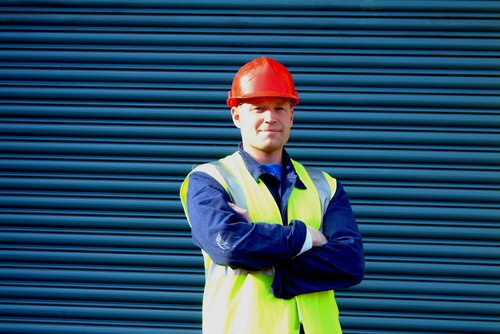 Builder confidence in the market for newly constructed single-family homes is at its highest level since 2005 with the NAHB's Housing Market Index (HMI) rising three points in October to a level of 64.
David Crowe, the NAHB's chief economist, said the continued strength of the HMI speaks to the market's consistency.
"With October's three-point uptick, builder confidence has been holding steady or increasing for five straight months. This upward momentum shows that our industry is strengthening at a gradual but consistent pace," Crowe said. "With firm job creation, economic growth and the release of pent-up demand, we expect housing to keep moving forward as we start to close out 2015."
Builders Especially Confident with Sales
Derived from a monthly survey that the NAHB has been conducting for 30 years, the NAHB/Wells Fargo Housing Market Index gauges builder perceptions of current single-family home sales and sales expectations for the next six months as "good," "fair" or "poor." The survey also asks builders to rate traffic of prospective buyers as "high to very high," "average" or "low to very low." Scores for each component are then used to calculate a seasonally adjusted index where any number over 50 indicates that more builders view conditions as good than poor.
Two of the three HMI components posted gains in October. The index measuring sales expectations in the next six months rose seven points to 75, and the component gauging current sales conditions increased three points to 70. Meanwhile, the index charting buyer traffic held steady at 47.
Looking at the three-month moving averages for regional HMI scores, all four regions posted gains. The West registered a five-point uptick to 69 while the Northeast, Midwest and South each rose one point to 47, 60 and 65, respectively.
NAHB Housing Market Index – Out of Sync?
Despite the HMI's strong numbers, Tom Woods, the NAHB's chairman, said that areas of concern do remain for some builders.
"The fact that builder confidence has held in the 60s since June is proof that the single-family housing market is making lasting gains as more serious buyers come forward," Woods said. "However, our members continue to tell us there are still pockets of softness in some markets across the nation."
Indeed, not all homebuilders are privy to the HMI's growth. As Chicago Agent and other outlets have reported for some time, the rise in builder confidence is due more to the surging luxury sector than the overall health of homebuilding. Since 2002, new homes priced $500,000 and up have grown from 4.65 percent of the market to nearly 16 percent, while new homes priced $199,999 and below have fallen from 55.81 percent to 22.22 percent. So among builders who have capitalized on that rising market share, confidence is high – while among those who have seen their market share fall, confidence remains low; remember that while the HMI's component for sales expectations was 75, the component for actual buyer traffic was substantially lower at 47.
Confidence Surging Beyond the Market's Grasp
Nowhere is that divide more apparent than a comparison of builder confidence to the overall rate of homebuilding. Our graph below shows how single-family new construction has moved mostly sideways in recent years, yet the HMI – which tracks builder confidence specifically in the single-family market – has soared: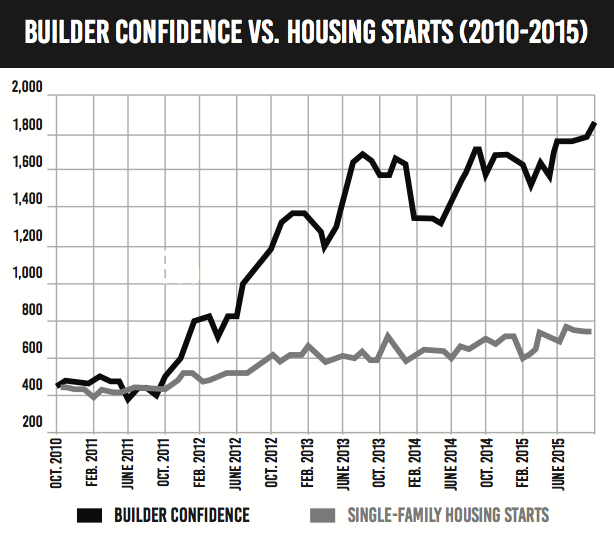 So while single-family construction has risen an impressive 68.9 percent since 2010, the HMI has skyrocketed 326.7 percent, or 4.7 times faster.
There is one area of new construction that has improved by leaps and bounds in recent years – multifamily housing, specifically apartments. The Census Bureau's latest construction report illustrates just how important multifamily housing has become for the current market:
•Single-family construction rose just 0.3 percent from August to September, while multifamily construction shot up 19.2 percent; the year-over-year numbers followed a similar trend, with an increase of 12 percent for single family and 28.6 percent for multifamily.
•Multifamily completions were up 33.6 percent from last year, meaning that a considerable number of multifamily units are poised to enter the market in late 2015.
•Multifamily construction now comprises 37.6 percent of all construction activity, which is its highest share since 1973, when it comprised as much as 43 percent of the market; for comparison's sake, at the height of the building boom in Sept. 2005, multifamily's market share was just 14.2 percent.
•Finally, an overwhelming share of multifamily development is devoted to rental properties. Through 2015's second quarter, 92 percent of multifamily construction was for rentals, up from 60 percent in 2005's second quarter. So the most active area of construction, in other words, has nothing to do with either single family housing or homeownership.