The iconic building has hit the selling block, and the possibilities are many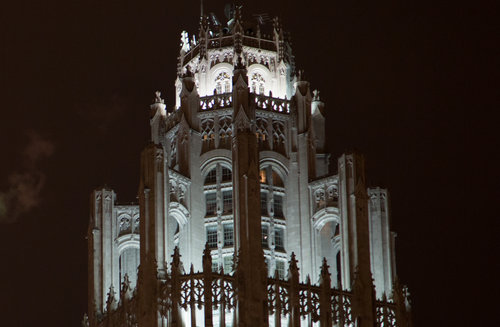 Tribune Tower, the 1925 gothic skyscraper that has been the longtime home of the Chicago Tribune, is now for sale, according to an announcement from Tribune Media.
The company, the announcement explained, has hired Eastdil Secured to explore either an outright sale of the building or a partnership; at 36 stories, Tribune Tower sits on three acres along Chicago's famed Michigan Avenue.
Murray McQueen, the president of Tribune Real Estate, spoke of the building's reputation in a statement.
"The global renown of this building, its unparalleled location and development potential make this an incredible opportunity and we are expecting a high level of interest from a broad range of private and institutional investors and developers," McQueen said.
Condos in Tribune Tower?
It's uncertain how Tribune Tower would be redeveloped in the event of a sale, but last year, Tribune Real Estate released conceptual plans for the space that included residential units, retail and a hotel. The tower has 737,000 square feet, but according to the release, is zoned for up to 2.4 million square feet.
"This property offers 100 linear feet more frontage on Michigan Avenue than Rockefeller Center has on Fifth Avenue in New York City," McQueen said. "We see this as the future site of an exciting retail destination, surrounded by world-class adaptive re-use of the Tower and additional mixed-use development."
This is not the Tribune Company's first foray into real estate. Last December, it sold a 60-acre property (which includes the Baltimore Sun's printing plant) in Baltimore for $30 million, and it has partnered with Riverside Investment & Development to redevelop a five-acre site at 700 W. Chicago Ave., where a former insertion plant is currently located.
---
Photo Credit: Creative Commons Attribution-Share Alike 3.0 Unported, Victorgrigas, https://commons.wikimedia.org/wiki/File:Tribune_Tower_Chicago_2012-0237.jpg