While banks took over the majority of flipping in the downturn, with high prices and low inventory, investors are again reentering the game.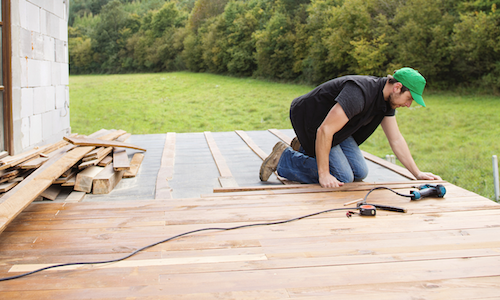 In the wake of the financial crisis, when home prices were low and demand nonexistent, the influx of foreclosures put a hefty weight of properties on the backs of banks. Wanting to recoup losses and shed the cumbersome load, banks began unloading properties quickly, and by 2008, these same financial institutions had become the majority of real estate flippers.
In 2008, 72.2 percent of house flips were bank-owned, according to CoreLogic. However, as confidence seeped back into the market, investors returned, wrought in ambition and looking to rebuild their portfolios. In the process, they forced down the share of bank-owned properties being flipped, from 70 percent in 2009 to 60 percent in 2011, and finally to 35.2 percent in 2013.
This year, that number is expected to drop even further. According to Auction.com's February 2015 Real Estate Investor Activity Report, investors are reentering the flipping market with renewed gusto, hoping to capitalize on two years of healthy growth.
That Spells Opportunity
In its evaluation of 2014's final quarter, Auction.com revealed a shift, albeit a slight one, in investor flipping activity. Among real estate investors and those working on behalf of another investor, 51.3 percent and 59.4 percent, respectively, purchased properties with the intent of flipping. One-time buyers, data confirmed, were still heavily in favor of renting their purchased properties, at 68.9 percent.
"It's interesting that so many investors continue to focus on flipping as opposed to buying properties to meet rental demand, even as rents continue to increase and homeownership levels are at their lowest point in over a decade," said Rick Sharga, executive vice president of Auction.com.
What's driving investors to opt for a quick, risky return rather than a more stable, long-term revenue stream, Sharga later postulated, is that in some areas, rents are too high to turn a profit – an issue we've covered at some length – and persistently low inventories have drummed up an immediate demand for available housing.
"That spells opportunity for real estate investors who can buy, fix and flip a property quickly and efficiently," he said.
Millennials Will Be the Difference
Looking closer at Auction.com's analyses, it becomes apparent that the overall figures are likely skewed; after all, flipping investors are heavily concentrated in certain markets, like California and Washington, where investors planning to flip made up 70.3 and 72.1 percent at live auction events, respectively.
When comparing online with live auctions, the Auction.com discovered that overall investor intentions take a 180. During live events, the majority of investors appear to be buying for the purpose of flipping; by contrast, when the transactions are taking place online, purchasing to rent is still a major motivator.
In the West (52.2 percent), Midwest (53.5 percent) and South (58.2 percent) regions, online investors are primarily purchasing homes with the intention of converting them into rental properties. Only in the Northeast (50 percent) were online investors mostly interested in flipping.
Boiling those figures down, the divide between investors who aim to flip and those who mean to rent can be further emboldened by examining investors' purchase profile. For those typically buying no more than one property per year, more than 60 percent were expecting to rent. However, investors who purchased two or more properties a year did so mostly with the intention of flipping.
Looking forward into 2015, Sharga believes Millennials, the next class of buyers, will be a big factor in determining where investor interest ultimately goes.
"As employment improves, it's likely that the increasing cost of renting will incentivize more Millennials to consider buying their first homes, which is good news for investors who are able to efficiently buy, rehab and sell properties in markets where inventory for entry level buyers is tight," Sharga said. "But the demand might not be immediate. While increasing rents should be a stimulus to buy, the irony is that these rent hikes are also making it more difficult for potential buyers to set aside the money they need for down payments and making it harder for recent graduates to pay down student loans, which impacts their ability to qualify for a mortgage."