New data from Midwest Real Estate Data suggests good things to come for the Chicagoland housing market. 
It's been a slow road to recovery for several of the country's biggest housing markets, and Chicago has not been immune to the ebbs and flows of the market. However, in 2013, attitudes surrounding Chicagoland's prospects for recovery began to lighten as investor interest helped encourage sales and inventory growth.
Through the Midwest's harsh winter, numbers surrounding the local market again turned in a negative direction, but data recently released by Midwest Real Estate Data suggests the recovery is making a comeback. Drawing from their research, here are four encouraging trends to watch in Chicagoland:
1. Homes are selling faster – Last April, when a listing first came on the Chicago market, sellers were waiting an average of 118 days, or roughly four months, for their property to sell – in 2013 the wait averaged 175 days. A year later and, by comparison, houses are flying off the proverbial shelf. Sellers in this past April waited an average of 100 days for their listings to sell, knocking nearly half a month off the overall time a property typically stays on the market.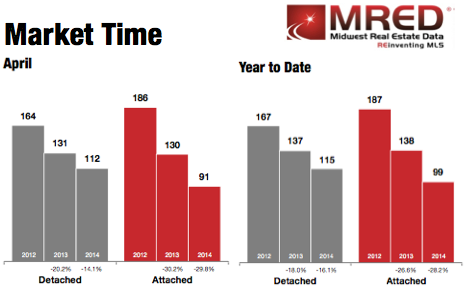 2. Supply and Demand Are Coming Together – For sale properties, as well as listings newly put on the market, have been steadily rising since January and December, respectively. In April, 54,700 homes were listed as "for sale" in Chicagoland, while 19,101 were categorized as a "new listing." Looking at 2013, overall inventory was up by more than 4,500, but the ratio of available listings to buyers was not as promising. Sold and under contract listings in April make up a combined 21,122 final and pending sales, compared to 20, 875 a year ago, which suggests buyer confidence is finally rising to meet available inventory.
3. Under Contracts Are Up – Typically around March and April, the number of listings under contract begin to rise as buyers shed their winter cloaks and start looking for a new home, making it no surprise that under contracts have been on the rise in Chicagoland since December. In five months the number of listings under contract have jumped from 5,675 to now more than 12,500. What is surprising, however, is the margin of growth compared to previous years. One year ago under contract listing totaled 11,565, the year before that 9,148. With so many sales already on their way to finalization, Chicago's 2014 outlook should be brightening.
4. Fewer short sales means fewer foreclosures – It wasn't that long ago that foreclosures were one of the main drivers of housing inventory in the U.S. Banks were seizing homes right and left and families were left scratching their heads, wondering what to do next. Last April, total market sales of foreclosed, pre-foreclosed and short sale listings topped 9,800. This year the sales dropped to 9,002. As mortgage rates begin to stabilize and lending standards tighten, foreclosures are likely to continuing growing less and less common in the Chicagoland area.