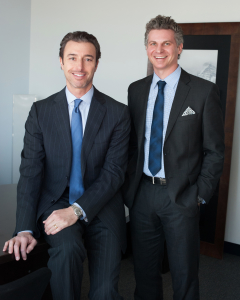 Known as one of the largest privately owned mortgage companies in the country and a super regional mortgage bank, Mortgage Master announces it's expansion of it's Midwest production infrastructure and brand with the opening of it's newest retail branch office in Northbrook, Illinois. The new office located at 1033 Skokie Boulevard will offer mortgage lending services to borrowers in Northbrook as well the surround communities on the North Shore and entire Chicago area.
In conjunction with the opening of what is to be their fourth retail branch office in the greater Chicago area and the fifth in the Midwest region, Mortgage Master adds mortgage industry veterans Jorden Brok and Brett Lotsoff as co-branch managers. Both will focus on expanding relationships with referral partners, providing borrowers with some of the lowest pricing and best in-class service, and as well as aggressively hiring high quality loan officers to further build-out the branch's production team.
"We are extremely lucky to have Jorden and Brett – both exceptional leaders and mortgage origination professionals – join Mortgage Master to build our business and brand in this important Midwest market," said Paul Anastos, president of Mortgage Master. "Business and excitement is already building about the Northbrook office, which is off to a fast start in helping borrowers purchase or refinance a home while interest rates are still historically low. Their leadership skills will help Mortgage Master continue to deliver dynamic service and the best possible pricing to borrowers in Chicagoland and throughout the Midwest."
With 17 years of industry experience, Brok has successful track record with having closed more than $1.1 billion in mortgage loans as a leading mortgage originator in Illinois. Prior to receiving this position, Brok was a loan officer at Guaranteed Rate Inc and most recently at 1st Advantage Mortgage.
"The opening [of] this new branch is a fantastic opportunity not only for me, but for the Midwest region," said Jorden Brok. "Mortgage Master is committed to offering borrowers some of [the] best pricing and service throughout the U.S. This model, coupled with my goal of fully understanding a borrower's goals and needs is a perfect fit for me to continue to help clients find the right mortgage solution for their current situation for either a purchase or refinance transaction."
Co-manger and partner, Lotsoff brings over 21 years of experience as a leading originator and manager in the residential lending industry. Throughout his career, he has closed approximately $1 billion in loans and prior to this position he was a senior vice president at 1st Advantage Mortgage and Guarantee Rate Inc.
"Jorden and I have worked together for 17 years and we are excited to become part of one of the leading and most responsible mortgage lenders in the country. For over 25 years, Mortgage Master has been helping borrowers with the biggest financial decision of their lives – buying a home," said Lotsoff. "We have a deep knowledge of our local markets, particularly the needs of jumbo borrowers, and with Mortgage Master's full-suite of lending solutions and exceptional operational infrastructure we can better and faster meet local borrowers' needs when making a decision to either purchase a new house or refinance an existing one."