The latest Redfin Real-Time Seller Survey says a new year brings new optimism and worries for their home-selling clients.
The polled surveyed 466 homeowners across 22 metro areas in the U.S and suggested that home sellers were feeling slightly more confident and 38 percent of home sellers believe that now was the time to sell.
However, sellers were still increasingly nervous that home buyers would struggle to qualify for a mortgage, thus limiting demand for homes and once they did manage to sell, they were fretting about buying their next home. With home inventory at the lowest point at least in that last four years, the home buyers know that they will likely have to compete aggressively to achieve their next home.
"Most of my home-selling clients worry the most about will happen after they sell," says Redfin agent Paul Stone in Denver. "With so much competition in the market, they fear they will have to move in with their in-laws if they can't find their next home quickly."
According to the Redfin survey, in the first quarter, 38 percent believe that now was a good time to sell, a bump form 34 percent in the fourth quarter in 2013, and a rise from 22 percent last year (graphs provided courtesy of Redfin).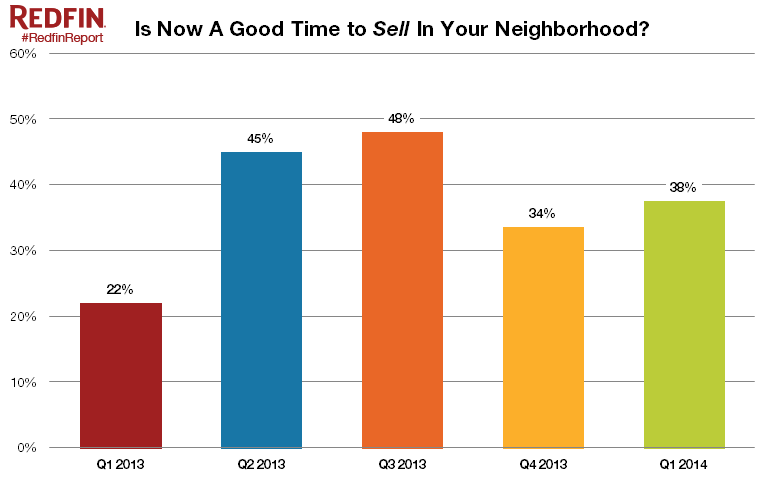 44 percent said they were looking to move up, or buy a larger or nicer home than the one they had, and 29 percent were looking to move to a different location.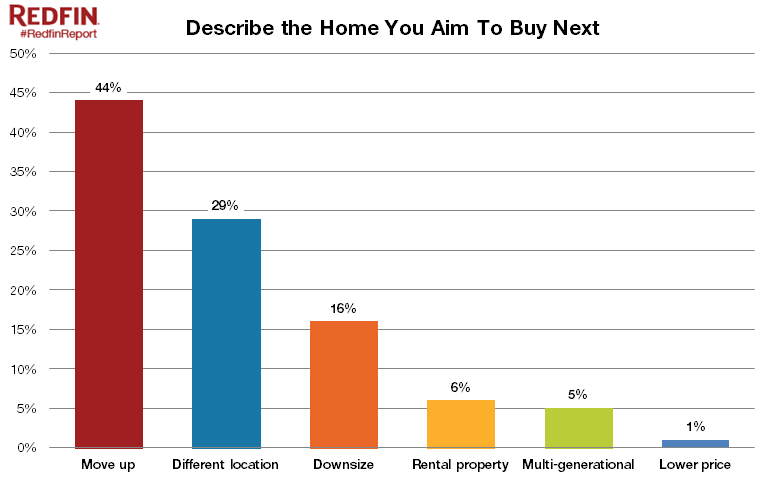 In this quarter, 29 percent of home sellers were equally concerned about buyer financing trouble and low inventory but at the same time they were less concerned about "general economic conditions." That option fell to 26 percent in the forth quarter, when sellers became increasingly worried about the U.S government shutdown and debt  ceiling battle.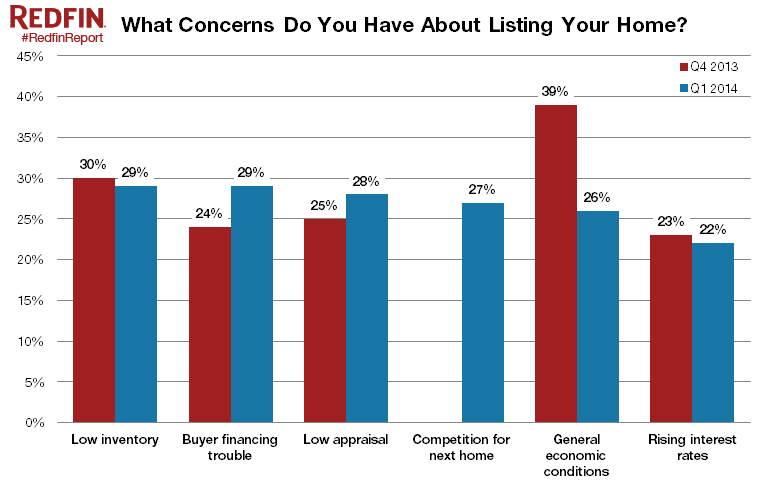 41 percent of home sellers said that mortgage rates are one factor while 11 percent said it was a key factor in their decision to sell their home.