Last year proved a very important one for Chicagoland real estate, according to end-of-year analysis by IAR.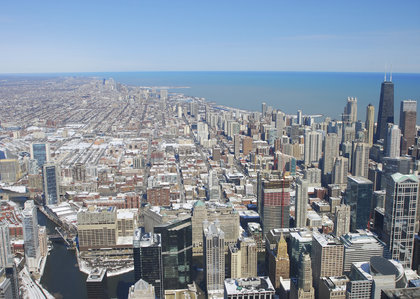 Home sales in the nine-county Chicagoland area rose 23.0 percent in 2013 over 2012 to a total of 111,427 sales, according to the analysis of the Illinois Association of Realtors. Additionally, median price for the area rose 10.9 percent to $177,500.
And that's in addition to a relatively strong December. Not only were home sales in Chicagoland up 8.1 percent year-over-year for the month, but median price jumped an impressive 18.0 percent.
Pent-up Demand Drives City Marketplace
The city of Chicago finished the year in even stronger territory, with home sales rising 21.2 percent over 2012 and median price rising 18.9 percent; for December alone, sales and median were up 12.5 and 13.5 percent year-over-year, respectively.
Matt Farrell, the president of the Chicago Association of Realtors, said that pent-up demand and a number of other economic factors contributed to Chicago's strong 2013 performance.
"A surplus of pent-up buyers helped move the market in 2013," Farrell said. "Motivated sellers, paired with attractive interest rates and a sense of a more stable economic climate, helped close deals that might have otherwise not come to the table."
Soaring Suburban Marketplace
The suburbs of Chicagoland, according to numbers from the Mainstreet Organization of Realtors, put up similarly strong numbers in 2013, with home sales rising 24.7 percent and median price rising 11 percent.
For the month of December, home sales were up 11.2 percent and median price was up 16.4 percent, both on yearly measures; also, with pending contracts for single-family homes up 7.9 percent in December, those positive numbers are expected to continue.
Michael Parent, MORe's president, said that 2013 was undoubtedly a strong year for Chicagoland real estate.
"There's no question that 2013 was an outstanding year for the Chicago-area housing market," Parent said. "In some ways, it was even better than predicted, especially in regard to the upward trend in prices. Nearly one third of the communities in MORe's jurisdiction experienced double-digit growth in home values in 2013."
Going forward in 2014, Parent said, the focus will be on home prices, and whether or not they can return to historically stable levels.
"Ideally we want to see steady, sustainable growth – around an 8 to 10 percent increase in home prices – in 2014," Parent said. "We need values, which are still a bit watered down, to return to normal market levels. There are tremendous deals to be had out there, as evidenced by the continued activity of investors in Chicago's suburban real estate markets."